Syria
Syrians refuse to send sons to join militant ranks in Idlib battles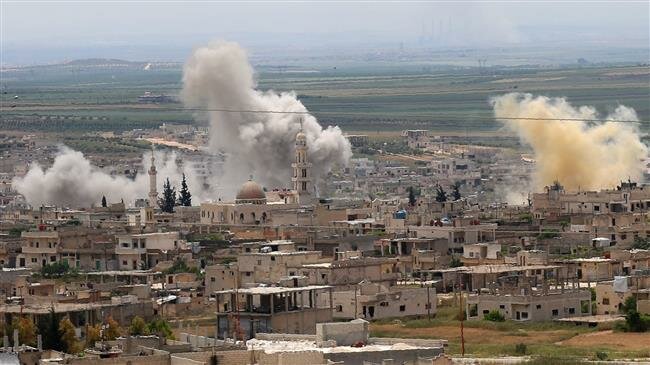 Families in Syria's northwestern province of Idlib reportedly refuse to send their sons to join the ranks of foreign-sponsored Takfiri militant groups in battles against Syrian army troops.
The pro-government and Arabic-language al-Watan newspaper, citing unnamed sources close to the so-called National Front for the Liberation of Syria – an alliance of militant factions supported by Turkey, reported on Monday that local residents have informed the Jabhat Fateh al-Sham Takfiri terrorist group, formerly known as al-Nusra Front, that they will not let their sons be involved in operations against Syrian government forces in northern and northwestern districts of the western-central province of Hama as well as the southern sector of Idlib, where fierce clashes are underway.
The sources added that Jabhat Fateh al-Sham is putting militants who have fled from Eastern Ghouta area in the suburb of the capital Damascus as well as the southern city of Dara'a and sought refuge in Idlib on the frontlines in the current battles.
Al-Watan further noted that the extremists have launched an arrest campaign in Idlib over the past few days to round up the men who have refused to fight alongside them.
The campaign has affected people in the towns of Ariha, Salqin and Sarmin in addition to Jabal al-Zawiya and Harem districts.
Under a deal reached following a meeting between Turkish President Recep Tayyip Erdogan and his Russian counterpart Vladimir Putin in the Black Sea resort city of Sochi on September 17, 2018, all militants in a demilitarized zone, which surrounds Idlib and also parts of the adjacent provinces of Aleppo and Hama, were supposed to pull out heavy arms by October 17, and Takfiri groups had to withdraw by October 15 last year.
The National Front for the Liberation of Syria is the main Turkish-backed militant alliance in the Idlib region, but the Takfiri Hayat Tahrir al-Sham (HTS) terrorist group, which is a coalition of different factions of terror outfits, largely composed of the Jabhat Fateh al-Sham, holds a large part of the province and the zone.
The HTS, which is said to be in control of some 60 percent of Idlib province, has yet to announce its stance on the buffer zone deal.
It is estimated that between 10,000 and 15,000 members of different factions of armed groups, which Syria, Russia and Turkey consider terrorists, are active in the volatile province, which is home to around three million inhabitants.
Syrian army deals hard blows to terrorists in northern Hama
Meanwhile, Syrian soldiers, backed by allied fighters from popular defense groups, have carried out a major operation against Takfiri militants in the northern part of Hama province.
Syria's official news agency SANA reported that Syrian soldiers and their allies shelled the position of Jabhat Fateh al-Sham terrorists on the outskirts of Muhardeh city, killing and injuring a number of the Takfiris in the process.
Separately, Syrian troops and allied fighters targeted vehicles belonging to Kata'ib al-Ezza (Brigades of Glory) terrorists in al-Lataminah town, located 39 kilometers northwest of the provincial capital city of Hama, destroying a number of them.
Syria has been gripped by foreign-backed militancy since March 2011. The Syrian government says the Israeli regime and its Western and regional allies are aiding Takfiri terrorist groups that are wreaking havoc in the country.