Syria
Syrians return to Homs after terrorists' evacuation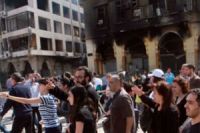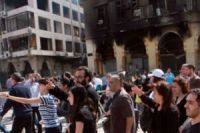 People return to their homes in Syria's western city of Homs after the army regained full control of the city.
According to AFP, hundreds of people displaced by three years of militancy returned to the city on Friday to see what remained of their homes.
All foreign-backed militants have now been evacuated from Syria's Old City of Homs, handing full control to government troops. This marks a major victory for Syrian President Bashar al-Assad ahead of the June 3 presidential election.
The safe exit of militants from Homs was part of a deal reached on May 4 between the government and the militants. It was brokered by Iran, Russia and the United Nations.
The deal also required the militants to allow aid into two northwestern towns of Kafr Nabl and al-Zahraa. The militants also agreed to release dozens of soldiers and civilians held hostage.