Syria
Syrians support Assad and against US-Israel Satanic Block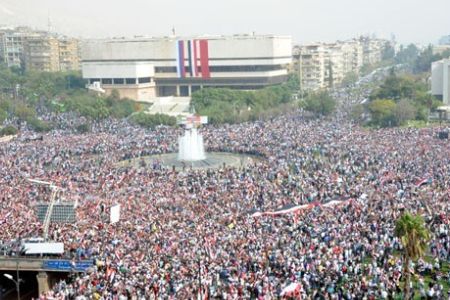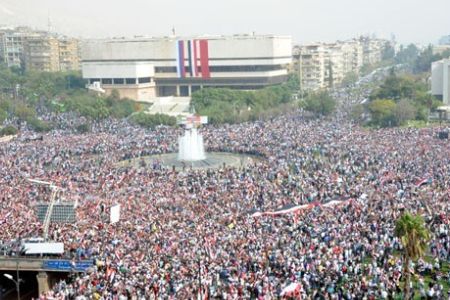 Tens of thousands of Syrians have rallied in the capital, Damascus, to show support for President Bashar al-Assad, calling for national unity.
Waving Syrian flags and brandishing pictures of Assad, Syrian civilians flocked to Omayyad square in Damascus downtown on Wednesday for the rally, chanting, "The people want Bashar al-Assad."
The demonstration was being held under the banner, "Long live the homeland and its leader; the Syrian people are one family."
Demonstrators also expressed support for the Syrian president's reform plan condemned foreign interference in their country's internal affairs.
They also thanked Russia and China for blocking a UN Security Council resolution against Syria.
During the rally, many Syrians signed their names in blood to display loyalty to their leader.
A similar pro-government rally was also held in Hasaka, 595 kilometers from Damascus.
The mass pro-Assad demonstrations coincide with a visit by an Arab League delegation led by Qatar's prime minister to Damascus for talks with senior Syrian officials over the unrest in the country.
Meanwhile, at least nine Syrian soldiers, including an officer, were killed by armed groups in the restive Hama Province.
Syria has been experiencing unrest since mid-March and hundreds of people, including security forces, have been killed in the violence.
While the opposition and Western countries accuses security forces of being behind the killings, the government blames outlaws, saboteurs and armed terrorist groups for the deadly violence, stressing that the unrest is being orchestrated from abroad.