Syria
Syria's Assad says militancy threatens entire Mideast region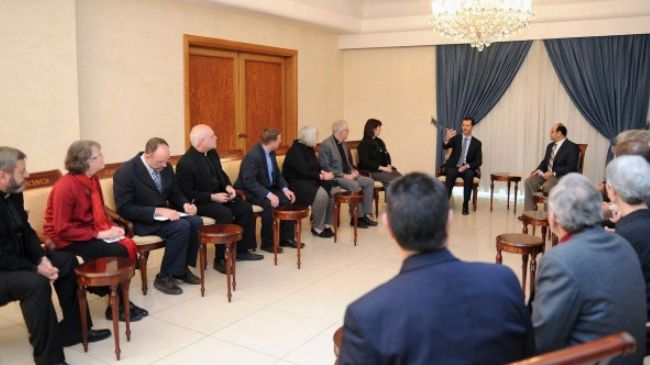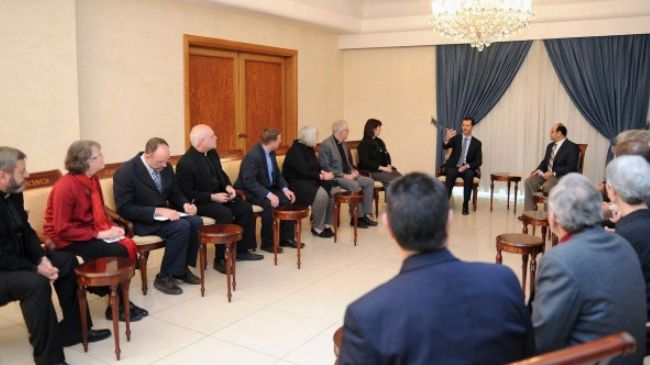 Syrian President Bashar al-Assad has warned that militancy threatens the entire Middle East region, stressing that Syria will never tolerate Takfiri and other extremist groups.
Assad made the remarks on Saturday in a meeting with an international delegation of the Anglican Church, including members from Syria, Lebanon, Switzerland, Sweden and the United States.
The Syrian president added that some Western leaders are only "working to achieve their narrow interests" instead of national interests.
Members of the delegation, for their part, rejected any idea of foreign intervention in Syria while expressing solidarity with the Syrian people.
The delegation was led by Amgad Beblawi, who is mission coordinator for the Middle East with the Presbyterian Church in the United States.
Crisis has gripped Syria since March 2011. According to statistics released by the United Nations, more than 100,000 people have been killed and millions displaced due to the turmoil.
Reports say foreigners are also among the militant groups operating against the government in Syria.
EU Home Affairs Commissioner Cecilia Malmstrom said on January 15 that European countries face the danger of terror attacks by extremists, including EU citizens fighting in Syria.
Malmstrom said Europeans who travel abroad to fight in combat zone would "become more radicalized in the process."
In addition, the Wall Street Journal recently reported that EU countries are concerned about the threat such citizens pose upon their return.
Some intelligence agencies have also held secret meetings with Syrian government officials over the issue, the report stated.