Syria
Syria's Brigade "17" is secure… A missile of "Free Army" on Ekrema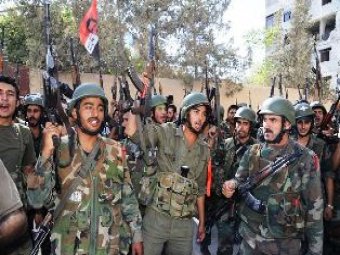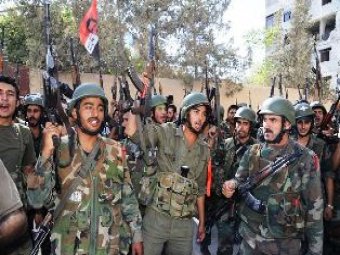 Two mortar shells launched by "Free Army" landed on Jaramana city in Damascus countryside, the first have landed near the graveyard and the other near the automatic bakery shop claiming only material damages.
Breaking News Network correspondent reported that the army units have dominated the region of Drousha in Damascus countryside after a series of successful operations killing dozens of gunmen and wounding others, while the operation continues in the area of Jarba where wide clashes took place, resulted in killing and injuring a number of militants.
In Jobar and to the east of the Great Mosque, the army units targeted an armed group, what led to the killing and wounding a number of them, known among the dead Mahmoud Abdul Salam, Ali al-Delleh and Nidal al-Awwa, as 7 cars were in the possession of insurgents have been destroyed near the tunnel of Harmaleh west of Zamalka.
Our correspondent said that Syrian Army units chased two armed groops in the neighborhoods of Barzeh and al-Qaboun, killing and injuring a number of insurgents, including Najm Alaa Sa'd Eddin and Ammar al-Rayyes.
Targeting several headquarters of "Free Army" in more than one area in Aleppo
Syrian Arab Army troops continued its targeting of the militia's headquarters I many regions of Aleppo, especially in al-Sheikh Saeid area of Aleppo countryside, killing and wounding tens of gunmen.
Our reporter transferred that the army units destroyed a number of dens and headquarters near the Daqaq Factory, Cables warehouse and Harshou Hotel, including weapons and munitions, in addition to the destruction of mortar canons near the al-Alqamia fuel station, near the agricultural research and Ein Dakneh in Ming town.
Our correspondent pointed that Syrian Arab Army units wracked through clashes a canon caliber 23 mm and anti-aircraft weapon, killing and wounding numerous among the insurgents' ranks.
A source to Breaking News: The brigade "17" is protected, high morale and combat readiness on standby
Syrian Army units targeted several gatherings of "Free Army" militia near the sugar mill near the camp of Baath Vanguards in Raqqa that led to the killing and wounding dozens of gunmen.
A military source confirmed to our network that the brigade "17" is secured and the morale of the fighters of Syrian Arab Army troops are high and combat readiness on standby.
A missile fired by "Free Army" landed on Ekrema in Homs, resulted in the martyrdom of a child and the injury of 12 civilians
"Free Army" militia fired a homemade rocket on the neighborhood of Ekrema, led to martyrdom of a child and wounding 12 civilians, most of them are children, as our reporter transferred that the time when the missile launched was when kids out of school.
In the meantime our correspondent reported the killing of 2 insurgents and arresting others while trying to infiltrate from al-Qusair in Homs countryside.