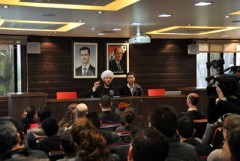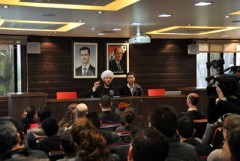 Syria's Grand Mufti, Ahmad Badr al-Din Hassoun on Sunday affirmed the important role of the youths in building civil Syria away from using religion for political purposes.
Hassoun, meeting the volunteers who joined a social workshop held by National Union for Syria Students, called on the youths to be "the fence that protect homeland along with the army to preserve Syria sovereignty."
"Today we are fighting on many fronts against our cousins who betrayed us and went to sit with the French, British and US, asking them weapons to destroy and divide Syria," The Mufti said.
He added that targeting Syria, the land of heavenly religions, is a target against the Arab and Islamic nations.
Chairman of the National work and forums at the Union Omar al-Aroub said the aim of the workshop is to train the volunteers on skills which are related to the administration of conflicts, negotiation and the psychological support.