Syria
Syria's Palestinian Yarmouk camp almost fully taken by Daesh: PLO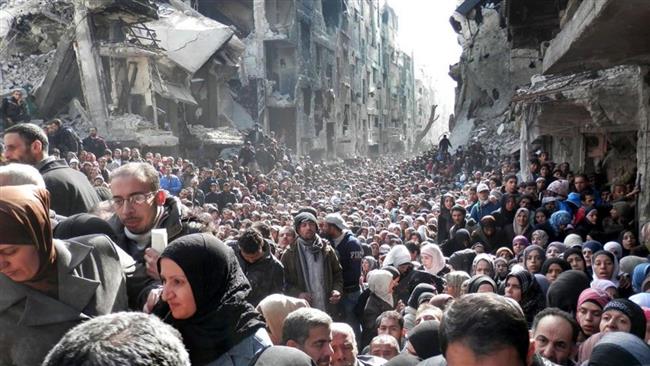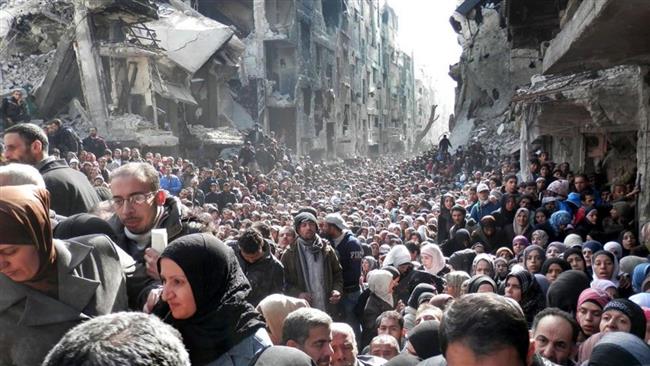 Daesh has taken control of most of the Palestinian Yarmouk refugee camp in Syria after pushing out a rival Takfiri terrorist group, says the Palestine Liberation Organization (PLO).
"Daesh began attacking positions of its former ally al-Nusra and took control of 60 percent of the camp," said PLO chief in Damascus Anwar Abdel Hadi on Tuesday.
According to Hadi, three civilians have been killed in the clashes between the rival factions in the camp, located in southern Damascus.
"Some Nusra fighters joined Daesh ranks. Daesh then besieged the last remaining Nusra positions and demanded that they leave the camp," he said, adding that now some 6,000 civilians and 3,000 Takfiri militants inhabit the camp
The terrorist takeover has been confirmed by the so-called Syrian Observatory for Human Rights and has been announced in Takfiri media outlets.
Last April, Daesh managed to seize parts of the camp with the help of its former al-Qaeda-affiliated ally, but was eventually repulsed by Palestinian factions and Syrian government troops.
The camp was once home to 160,000 Syrians and Palestinians. However, it has turned into a ghost town as a result of the violent attacks by anti-government militants over the past five years of tumult in Syria.
Over the past few months, the Syrian army, backed by the Russian air power, has been making major gains against terrorist groups, recapturing several strategic areas from the Takfiris.
Russian sappers busy in Palmyra
On March 27, Syrian forces, with Russian air support, retook the ancient Syrian city of Palmyra. Over the past 12 days, Russian sappers have defused around 3,000 explosive devices in the city historical city.
"Beginning April 1, over 30 kilometers of roads and more than 182 hectares of land have been demined; 2,987 explosive objects have been unearthed," said Russian Defense Minister Sergey Shoigu on Tuesday.
He added that Russian forces have also deployed a field hospital in the city."It's fitted out with the most advanced medical equipment to operate autonomously for 30 days. If necessary, both the Syrian military and local citizens returning back home can address to that medical installation," he noted.
Russian gunship goes down near Homs
A Russian Mil Mi-28N Night Hunter attack helicopter crashed while carrying out operations in the western Syrian province of Homs.
"On April 12 … a helicopter of Russian Air Force helicopter was involved in an accident, and two crewmen have died," read a statement released by Russia's Defense Ministry.
The statement noted that the chopper had not crashed due to hostile fire and was probably brought down by a technical problem.
"A group of aircraft accident experts is working at the crash site. The cause of the accident is being investigated," added the statement.
Upon a request from the Syrian government, Russia started conducting airstrikes against the Daesh Takfiri terrorist group's positions and those of other terrorist groups in Syria on September 30. Since then, the strikes have killed hundreds of Daesh terrorists and other foreign-backed militants and inflicted heavy material damage to them.
Syria has been gripped by foreign-backed militancy since March 2011. According to a February report by the Syrian Center for Policy Research, the conflict has claimed the lives of over 470,000 people, injuring 1.9 million others, and displacing nearly half of the country's pre-war population of about 23 million within or beyond its borders.