Middle East
Syria
Turkey
Tahrir Al-Sham Terrorists Relocates Key Centers from Idlib to Borders with Turkey
Tahrir al-Sham al-Hay'at (the Levant Liberation Board or the Al-Nusra Front) has transferred its strategic centers to the borders with Turkey as precise and continued airstrikes by the Russian and Syrian bombers have increased, media sources said Monday.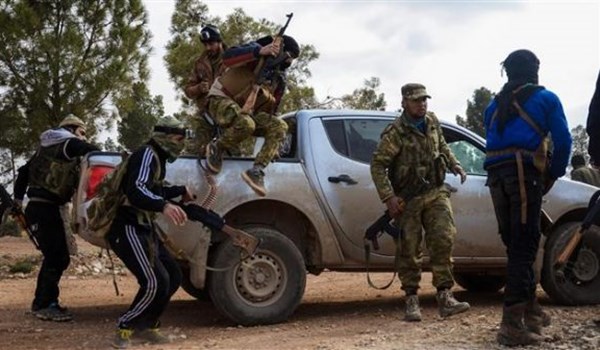 The Russian and Syrian bombers conducted over 100 air raids on important military positions of Tahrir al-Sham al-Hay'at terrorist group across Northern and Northwestern Hama over the past 24 hours, targeting their contact lines in West and Southwestern Idlib to Hama, the Arabic-language version of Russian Sputnik news agency quoted a military source in Northern Syria as saying.
The source reiterated that several military positions and arms depot of the terrorists in the towns of al-Latamna, Kafr-Zita, Qala al-Maziq, al-Hawiz, al-Hawija, al-Sormanieh and a central communications center of the militants stationed in Hama and Idlib were destroyed in the Russian and Syrian airstrikes.
Meantime, local sources in Idlib province pointed to Russian and Syrian precision airstrikes on Tahrir al-Sham's military positions in Northern Syria, and reiterated that Tahrir al-Sham terrorists have relocated their important positions from Idlib to Syria's Northern borders.
The Syrian Army's artillery units also hit the military positions of the terrorists in al-Latamna and al-Zuka towns, destroying several hideouts and military positions used for attacks by them.
The Syrian Army's artillery shelling came in response to Tahrir al-Sham al-Hay'at attacks on residential areas of al-Saqilbiyeh and the town of Jab Ramaleh in Northern Hama and death of several civilians.
In a relevant development on Saturday, Chief of Russia's Center for the Reconciliation of Conflicting Parties in Syria Major General Viktor Kupchishin told media that groups of militants in the South of the de-escalation zone Idlib led by Hayat Tahrir al-Sham were creating a strike force and their attack on Hama is not ruled out.
"According to information available at this point groups of militants under the command of Hayat Tahrir al-Sham have been building up strength near Latamna and Kafr-Zita in the South of the de-escalation zone Idlib over the past few days. It should not be ruled out that they are creating a strike force with the aim of mounting an offensive against Hama," Kupchishin stated, according to TASS.
He warned that the situation in the de-escalation zone Idlib had continued to worsen over the past day.
"As it was stated earlier, the air base Khmeimim and also Syrian government forces in Lattakia province were repeatedly attacked lately from the militants' positions in the areas of Qalaat al-Mudiq and Bab Atiqa in the Western part of the mentioned zone with the use of multiple rocket launchers and drones. From the Southern part of the de-escalation zone Idlib militants repeatedly mount fire attacks on the positions of government troops in Mahardah and Skelbia," Kupchishin added.