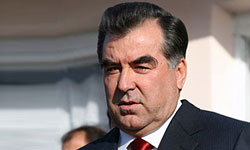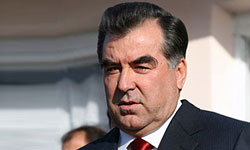 Tajik President Emomali Rahmon is due to arrive in Tehran on Thursday to attend a trilateral summit of the Iranian, Tajik and Afghan heads of state.
"Tajik President Emomali Rahmon and his accompanying delegation visit Tehran to attend a trilateral summit meeting of the presidents of the Persian-language-speaking countries of Iran, Afghanistan and Tajikistan," Iranian Ambassador to Dushanbe Ali Asqar She'rdoust told FNA on Wednesday.
The Iranian capital is due to host the fourth summit of the three presidents on August 5-6.
Rahmon will be accompanied by Tajikistan's Foreign Minister Hamrokhon Zarifi, Minister of Transport and Communications Olimjon Boboev, Minister of Energy and Industry Sherali Gul and other high-ranking officials during his trip to Iran, She'rdoust added.
The Iranian envoy further pointed out that issues related to cooperation among the three countries as well as major regional issues, including the political situation in Afghanistan and the Central Asia, are due to be discussed during the summit meeting.
The three presidents are also scheduled to endorse a number of cooperation agreements on the expansion of economic ties and cooperation among the three neighboring states, the Iranian diplomat said.
The last trilateral meeting among the Iranian, Tajik and Afghan presidents was held in Tehran on March 11.
Iranian Presidents Mahmoud Ahmadinejad, President Emomali Rahmon of Tajikistan and Afghan President Hamid Karzai in their last meeting stressed that expansion of relations and trilateral cooperation is beneficial to all the three countries.
The three presidents also said that potentials and capacities of the three countries are complementary to each other's, and stressed that ties should be developed in all fields.