Syria
Takfiri bombing kills 3, injures 3 in Syria's Hama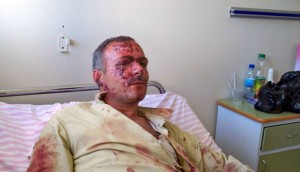 At least three people have been killed in a fresh car bomb attack carried out by foreign-sponsored militants in Syria's west-central Hama Province, local sources say.
Syria's official news agency SANA cited a local official, speaking on condition of anonymity, as saying on Saturday that a Takfiri terrorist detonated a car packed with some 1.5 tons of explosives near the town of al-Hamra located north of Syria's Hama Province.
According to the source, three people were killed and three others wounded in the bombing. The explosion also caused heavy material damage in the area, the official added.
Cities and towns across Syria have frequently come under bomb attacks as well as mortar and rocket fire by extremist groups since the crisis broke out in the Arab state over three years ago.
The Takfiri groups have recently stepped up their deadly attacks against Syrians as the Arab country is preparing to hold an important presidential election on June 3.
Syria has been the scene of a deadly turmoil since March 2011. Reports says over 150,000 people have so far been killed and millions of others displaced because of the foreign-backed militancy plaguing the country.