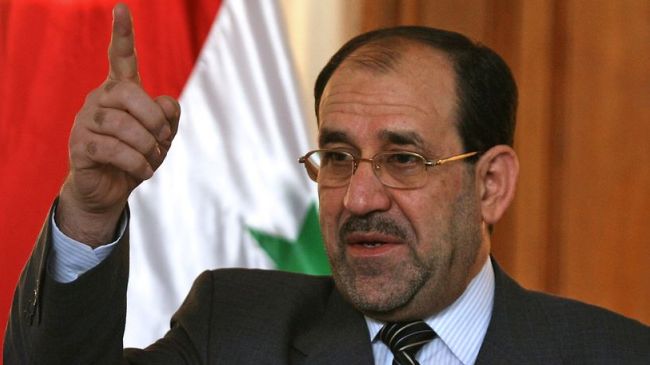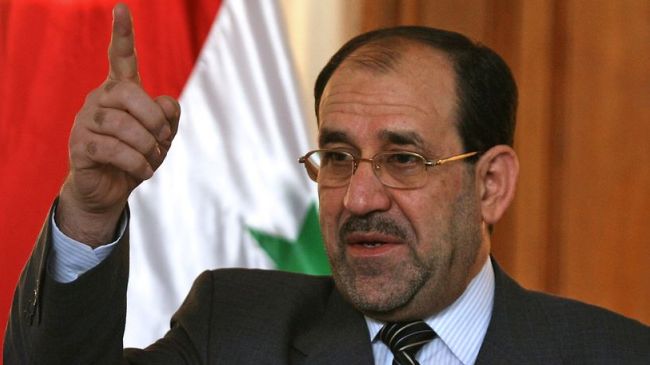 Iraqi Prime Minister Nouri al-Maliki has warned that Takfiri militants fighting against the Syrian government are threatening peace and stability in the entire region.
During a Sunday visit to Iraq's Kurdistan region, Maliki referred to the turmoil in Syria, describing "the comeback of the extremist organizations" such as al-Qaeda and al-Nusra Front as the most dangerous threat to the whole region.
"That has brought back the ghost of the killing not only to Iraq but to the region and as Iraq is part of the region and part of its fabric general and that we started to be affected by the storm the region is going through," Maliki added.
Maliki also called on the Iraqi nation to stay united in the face of sectarian strife targeting Iraq and other regional countries.
The al-Nusra Front has been behind many of the deadly bombings targeting both civilians and government institutions across Syria since the outbreak of violence in the Arab country in March 2011.
On April 9, the leader of al-Qaeda-inspired Islamic State of Iraq network, Abu Bakr al-Baghdadi, announced merger with the al-Nusra Front to play an even greater role in the crisis plaguing Syria.
A day later, Abu Mohammed al-Jawlani, the head of the terrorist al-Nusra Front, pledged allegiance to the al-Qaeda chief, Ayman al-Zawahiri.
Iraq has been witnessing an upsurge in violence across the country.
Shortly before Maliki arrived in Arbil, at least seven people lost their lives in a car bomb attack on an army checkpoint in the Iraqi capital, Baghdad. Some 18 others were also injured in the attack.