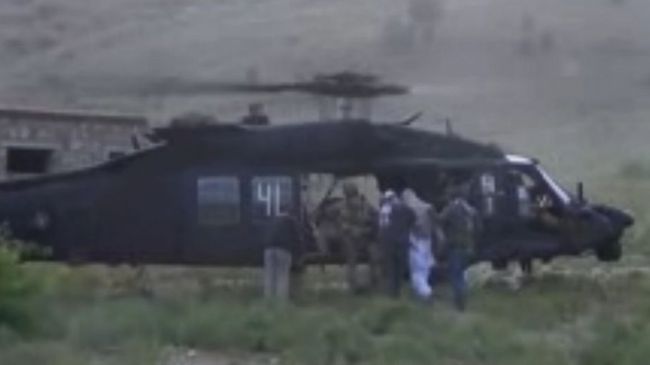 Afghanistan's Taliban militant group has released a video showing the handover of US army sergeant, Bowe Bergdahl, to American forces.
The footage was released on Wednesday, five days after the 28-year-old was handed over in exchange for five Taliban detainees held at the US-run Guantanamo Bay prison in Cuba.
"Don't return to Afghanistan again. Next time, nobody will release you," a Taliban militant tells Bergdahl in the 17-minute video, which shows Bergdahl wearing traditional Afghan clothes.
It also shows the Taliban militants shaking hands with US forces after getting off a Black Hawk helicopter.
In a deal brokered by Qatar, the US soldier was released on May 31 in the eastern province of Khost, after nearly five years of captivity. The five Afghan prisoners had been sent to Qatar.
On June 2, Afghan President Hamid Karzai voiced outrage at the US for its secret deal with the Taliban. He expressed concern over future deals being reached behind his back.
The United States and its allies invaded Afghanistan in 2001 as part of Washington's so-called war on terror.
The offensive removed the Taliban from power, but insecurity has continued to rise across the country, despite the presence of tens of thousands of US-led troops.
Relations between Kabul and Washington have been strained in recent years over several issues related to Afghan sovereignty. Afghan President Hamid Karzai has censured the US for civilian casualties in airstrikes, night raids on private houses and alleged abuses by US-led forces.