Afghanistan
Asia-Pacific
Taliban vow punishment as death toll from Shia mosque blast mounts
The Taliban have pledged punishment for those behind Friday's deadly bomb attack on a Shia mosque in northern Afghanistan, for which the Daesh terrorist group has claimed responsibility.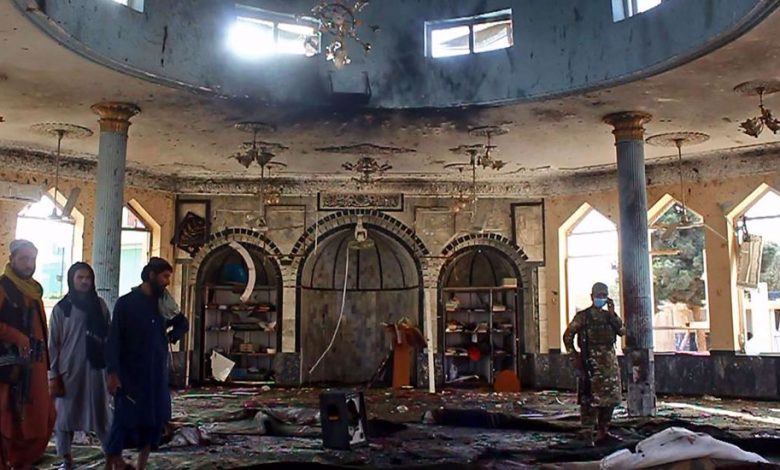 The blast happened as worshipers were offering prayers at the mosque in the Khanabad Bandar area in Afghanistan's northeastern city of Kunduz, killing scores of people and injuring more than 140 others, according to TOLO news agency.
Local security officials said over 300 people were attending the prayers when the attack took place, with media reports citing eyewitnesses as saying, "More than 100 people were killed and 20 others were injured in the explosion in mosque."
The Daesh-K, the Afghan branch of the Takfiri terrorist outfit, claimed responsibility for the attack late Friday in a statement issued on its Amaq news channel.
Zabiullah Mujahid, a Taliban spokesman and the Taliban deputy minister of information and culture, confirmed the terrorist attack and vowed that the perpetrators of the "heinous" act will be punished.
"A Shia mosque was blown up by Takfiris in the Khan Abad Bandar area of ​​central Kunduz province this afternoon, killing several of our compatriots and injuring several others," Mujahid said on Twitter.

"The Islamic Emirate strongly condemns this heinous act and promises to find and punish the perpetrators of this heinous crime. God willing."
The deadly bomb attack took place a few hours after Mujahid told TOLO news agency that the Taliban did not consider Daesh a "threat" but a "headache." He said Daesh lacked popular support in the country and would certainly very soon be "suppressed."
The Takfiri terrorist group has claimed responsibility for numerous attacks in Afghanistan.
The ongoing violence after the Taliban takeover has plunged Afghanistan into a dire situation, with international aid agencies calling for urgent action to support millions of struggling Afghans.
The Taliban have gained almost complete control of the country since the US military pullout from Afghanistan in August.
Iran, UN condemn terrorist attack at Kunduz mosque
Iran's Foreign Ministry condemned on Saturday the blast as an "act of terror" and expressed sympathy with the families of the victims.
"Acts of terror, in any form and by any party, are condemned," said Saeed Khatibzadeh, the Iranian Foreign Ministry spokesman.
The United Nations chief also condemned the "horrific" attack "in the strongest terms," noting that it represents the third assault on a religious institution in less than a week after a blast near a mosque in Kabul and an attack on a school in the eastern province of Khost.
"Attacks that deliberately target civilians exercising the right to freely practice their religion are violations of fundamental human rights and international humanitarian law," Secretary-General António Guterres said in a statement released by his spokesperson. "The perpetrators must be brought to justice."
The secretary-general also expressed his condolences to the bereaved families and wished a speedy recovery for the injured.
The UN Mission in Afghanistan, UNAMA, tweeted that it was deeply concerned over the recent spate of attacks in Afghanistan, saying, "Today's incident is part of a disturbing pattern of violence."
In a tweet, the UN human rights office, OHCHR, said that the bombings and targeting of houses of worship "highlights the vulnerability of ordinary Afghans, especially religious minorities. Our hearts are with the victims and we hope for justice."