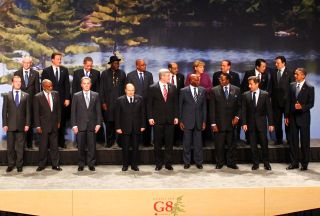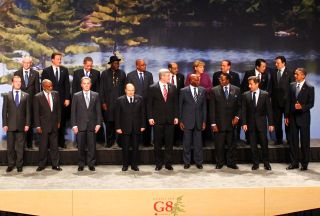 Leaders from the Group of Eight industrialized nations say Iran can protect its right to civilian nuclear energy by allaying Western fears through "transparent dialogue."
"While recognizing Iran's right to a civilian nuclear program, we note that this right comes with international obligations that all states, including Iran, must comply with," said an official communiqué released after two days of talks in Ontario, Canada.
"Our goal is to persuade Iran's leaders to engage in a transparent dialogue about its nuclear activities and to meet Iran's international obligations," it added.
The leaders said Tehran could restore international confidence in the peaceful nature of Iran's nuclear program by implementing relevant resolutions by the International Atomic Energy Agency (IAEA) and the UN Security Council (UNSC).
The UNSC imposed a fourth round of sanctions against Tehran on June 9, three weeks after Iran, Brazil and Turkey signed a nuclear fuel swap declaration, under which the Islamic Republic agreed to exchange 1,200 kg of its low-enriched uranium with fuel for a medical research reactor.
The group is comprised of four of the five veto-wielding permanent members of the UNSC — Britain, France, Russia, and the US — plus Japan, Canada, Italy and Germany.
While the G8 leaders 'welcomed and commended' Ankara and Brasilia's pro-diplomacy efforts, they shrugged off calls by the two non-permanent members of the Security Council for action on the May 17 initiative.
Last week, Brazilian Foreign Minister Celso Amorim criticized Western powers, saying their actions contradicted their "nice words" with regards Brazil's mediation efforts.
Iran rejects Western allegations that its nuclear program harbors a secret military aspect, arguing that as an IAEA member and a signatory to the Nuclear Non-Proliferation Treaty (NPT) it has the right to peaceful and civilian nuclear energy.
The Atomic Energy Organization of Iran has repeatedly said that Tehran is cooperating with the IAEA by allowing routine inspections of its nuclear facilities, insisting that the Agency should not discriminate on its nuclear case.