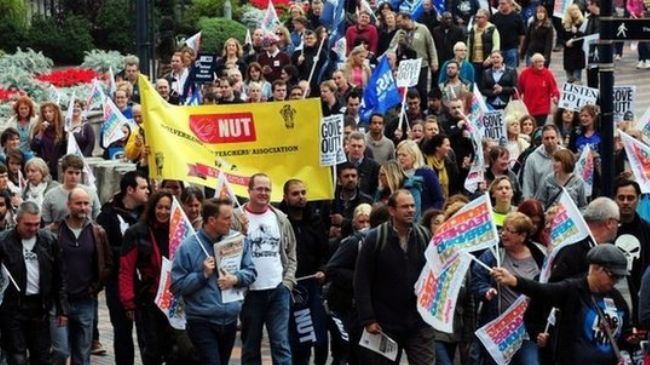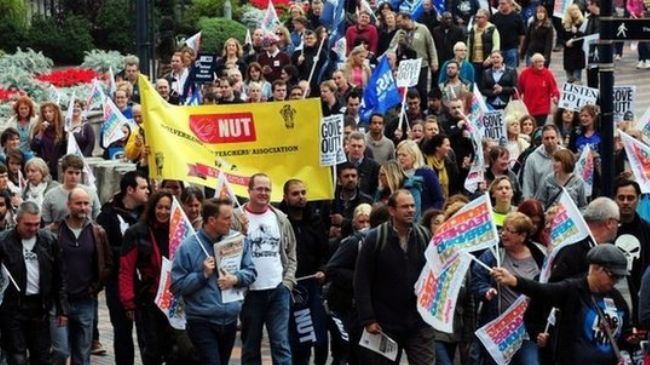 British teachers have gone on strike in parts of England in protest against government's plans to enforce changes in their pay and working conditions forcing many schools to close.
Members of Britain's two largest teachers' unions, the National Union of Teachers (NUT) and the NASUWT, took part in the industrial action, which affected schools throughout the Midlands, Yorkshire and east of England on Tuesday.
Tens of thousands of pupils across 49 local authorities had their schools closed or partly closed for the day. In Leeds, 111 schools were closed and 91 others had limited teaching, British media reported.
"Teachers have had enough of the myths and misinformation about their achievements from Michael Gove [the education secretary]", Chris Keates, NASUWT general secretary told a rally at Birmingham's international convention centre.
"Teachers are being asked to pay the price of a recession they didn't create", she added, accusing Gove of "indulging in megaphone diplomacy".
The Department for Education is willing to pay teachers based on their performance in classes by giving more powers to head-teachers.
The teaching unions reject the plan saying that in absence of clear rules such a system would be open to abuse.
Christine Blower, the general secretary of the NUT, said Tuesday's action was meant to convey the message how teachers are angry with the government's indifference as far as their problems are concerned.
"Strike action is never a step that teachers take lightly and we are very aware and concerned about the inconvenience it causes parents. Unfortunately we are faced with a government that is refusing to listen to the reasonable demands of the profession. Changes to pay, pensions and workload will make teaching a far less attractive profession, which is not in the long-term interests of teachers and children," Blower said.
Further strikes are planned for 17 October in London, the north-east, Cumbria and the south of England.