Iran
Middle East
Turkey
Tehran-Ankara train resumes after 4 years
After a four-year suspension, Iran launched the first Tehran-Ankara train, which made its inaugural trip to Turkey on Wednesday night. Carrying 200 passengers, the 5-car train departed Tehran at 10 PM local time.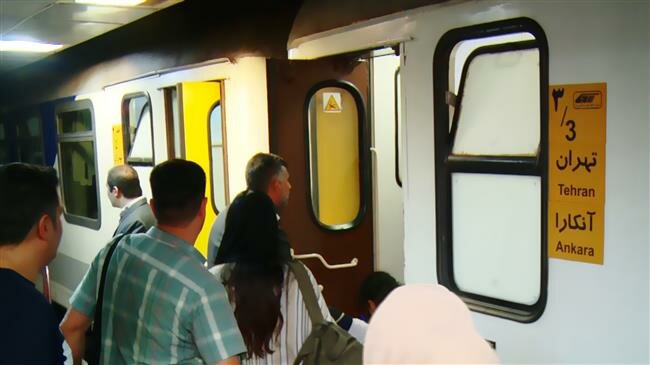 The train will run once in a week. The entire trip from Tehran to Ankara will take some 60 hours. The train will have a stopover in Iran's northwestern city of Tabriz before crossing the border and getting to Turkey's Van province. The passengers will then take ferries across Lake Van to get to Ankara.
The first class train makes two-way trips, and people from Turkey can also travel to Iran using the train.
Iranian transport officials say this is just the beginning of rail transport between Iran and Turkey.
Tehran-Ankara passenger train services were suspended in 2015 following a terrorist explosion claimed by the outlawed PKK militant group which damaged a wagon but left no casualties.
Turkey is one of Iran's major trade partners. The inauguration of the new train is part of the two sides' 30-billion dollar annual trade target, which comes despite pressure by the US aimed at isolating Iran's economy.
Each year, around 2-and-a-half million tourists commute between the two countries, mostly by airplanes.
Already having strong economic and cultural ties, Tehran and Ankara will take their relationship to the next level by launching this passenger train. Officials say this railway will diversify transportation modes between the two states, which will significantly improve tourism in both countries.