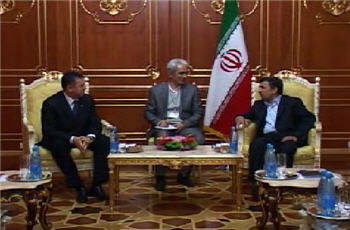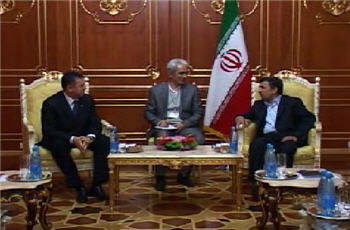 IRI President Mahmoud Ahmadinejad said a railway construction project between Tehran and Ashgabat will develop the entire region.
President Ahmadinejad made the remarks in a meeting with Turkmen Vice-President Khajeh Mohammadov Sunday evening.
The meeting was held in Turkmenistan on the sidelines of the third International Nowruz Celebrations.
The Iranian President said there is no obstacle in the way of expansion of bilateral cooperation between the two friendly countries of Iran and Turkmenistan.
For his part, the Turkmen vice-president said his country sees the Islamic Iran as a friendly nation, underlining the need for promotion of all-out ties between the two sides.
Praising Tehran-Ashgabat railroad project, the Turkmen official said it is a successful model for bilateral cooperation.