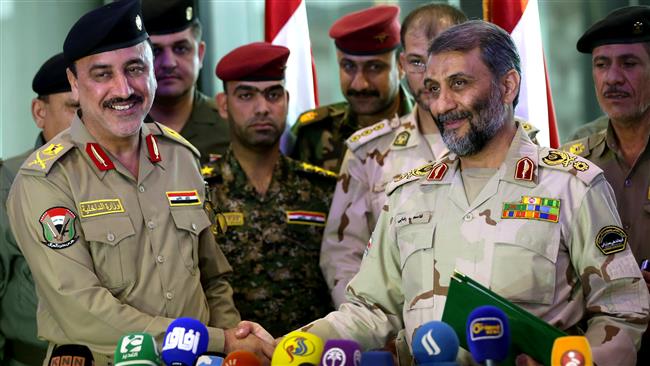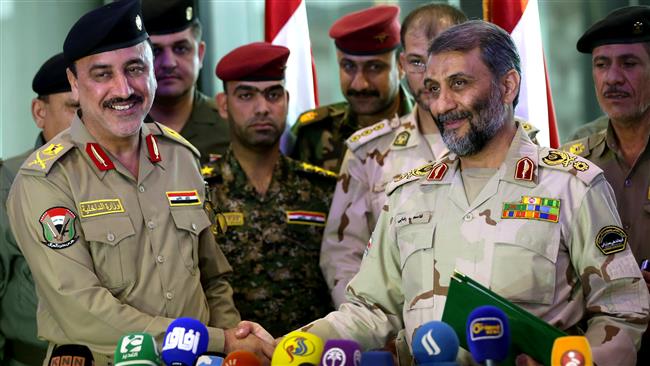 Iran and Iraq have signed an agreement to promote security measures along the two countries' border, Press TV reports.
The commander of Iran's border police, Brigadier General Ghasem Rezaie, and his Iraqi counterpart Major General Abdul-Karim Mustapha hammered out a border control agreement in Erbil, the capital of the semi-autonomous Kurdish region in northern Iraq, on Wednesday.
"The Islamic Republic of Iran has over 1,600 kilometers of shared borders with Iraq. They can only be secured through coordination. The session is aimed at following up on our joined strategies in assessing them. We are meeting with officials here and we are pleased to see that both sides realized the importance of a unified Iraq at this point," Rezaie told Press TV.
The Iranian commander also hailed the recent victories of the Iraqi army against ISIL, stressing that the Takfiri terrorists are no threat to Iran's territorial integrity.
"We believe the people of Iraq are capable of countering the ISIL crisis. We have been hearing about a lot of victories recently. Iraq with its military forces and popular support can survive this crisis. We currently have no records of attempts by the ISIL terrorists to attack our territory, but we know that they do not dare come near our land," he added.
The commander-in-chief of Iraq's border control units, for his part, said that the Arab country attaches special importance to the security of its border with Iran, adding, "We will not allow anyone to use Iraq's territory as staging ground for attacks on the Islamic Republic."
Mustapha also stated that the Iraqi military aims to liberate the country's ISIL-held northern areas in order to restore security and stability to Iraq's border with restive Syria.
"Our main concern now is our borders with Syria. With the occupation of Mosul and the ISIL's control over much territory in north Iraq, we have no military presence there. We have to redeploy our units soon enough," he said in an interview with Press TV.
The ISIL Takfiri terrorist group, with members from several Western countries, controls swathes of land in Iraq and Syria, and has been carrying out horrific acts of violence such as public decapitations and crucifixions against all communities such as Shias, Sunnis, Kurds, and Christians.
The Iraq army has clinched decisive victories against extremist groups in recent weeks, flushing terrorists out of several key areas including Tikrit and Ramadi.