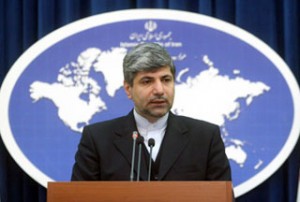 Tehran says the West's double standards vis-à-vis the human rights issue and using international mechanisms as a tool have put the credibility of international bodies at stake.
"The continuation of the West's double standard approach will seriously undermine the efficiency and credibility of international organizations", said Iranian Foreign Ministry Spokesman Ramin Mehmanparast on Wednesday.
He said the UN Human Rights Council was to adopt a resolution to condemn the Zionist regime of Israel when it met in an emergency session last week following the Israeli attack on the Gaza-bound aid flotilla.
Nevertheless, Mehmanparast underscored, Western countries either voted against the resolution or abstained.
"And in a recent UN Human Rights Council session, they (Western states) brought up the issue of Iran to deflect attention from the Zionist regime to reduce international pressure on the regime", added the Foreign Ministry spokesman.
He then dismissed an anti-Iran statement issued by certain members of the council in the very same session.
"The provisions of the statement are unreal and politically motivated", added the spokesman.
He also lashed out at the UN Security Council for adopting an 'illogical' sanctions resolution against Iran.