Syria
Tehran, Damascus in Talks over Building 50,000 Houses in Syria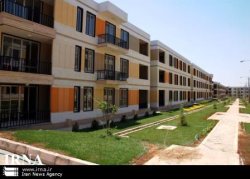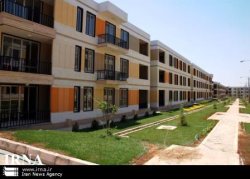 Iranian and Syrian officials are holding negotiations on a giant house construction project which includes building 50,000 residential units in the Arab country, an Iranian official announced on Monday.
"Negotiations are still underway over the construction of 50,000 housing units in Syria," Chairman of the Iranian Syndicate for Mass-Construction Companies Iraj Rahbar told FNA.
Rahbar reiterated that the two countries are still holding talks to reach a consensus on the final price for the houses to be built in Syria, and said the construction materials, including sand and cement, are three times more expensive in Syria than their price in Iran.
"Therefore the final price of the housing units in Syria is higher than Iran," he added.
He said that the price of $480 per meter is logical and proper for the Iranian contractors to build housing units in Syria.
Iran which enjoys abundant experiences in mass-construction of houses has signed contracts with a number of countries to build housing units.
Earlier this month, Head of the Shelter Branch at the UN Human Settlements Program Mohamed El Sioufi praised Iran for the mass-construction of beautiful and strong houses in the country, and said the UN plans to provide other states with Iran's experiences in this field.
"The UN Human Settlements Program intends to provide other countries in the region with Iran's experiences in house construction and introduce Iran's experiences, specially in this arena, to the world," Sioufi said after visiting a housing project near Tehran at the time.
He referred to the contracts signed between Iran and other countries, including Venezuela, Iraq and Syria, for building a large number of houses in those countries, and said Iran with its management and engineering skills can play a main role in strengthening different buildings, specially against earthquake.