Europe
Iran
Middle East
Tehran Describes UK's Tanker Seizure as Int'l Piracy
Iranian President's Chief of Staff Mahmoud Vaezi lashed out at London for seizing an oil supertanker of his country, warning that such moves will have negative consequences for bilateral relations.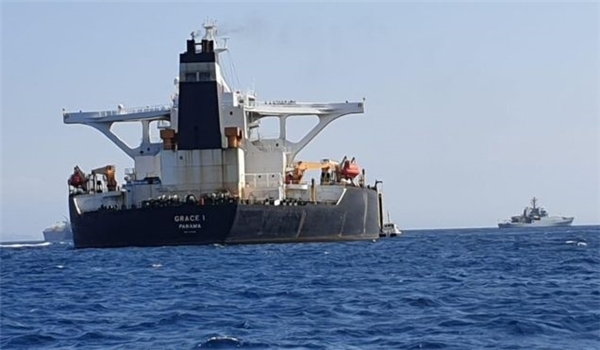 "The UK move to seize the Iranian oil tanker was a very wrong action and tantamount to international piracy," Vaezi said after a weekly cabinet meeting in Tehran on Wednesday.
"As it was a big mistake by the UK, the Islamic Republic condemned it, and we are trying to solve the issue through political and diplomatic channels," the official added.
"There are many things happening in the world that cannot be linked together, but such unfriendly moves will certainly undermine bilateral relations," he said.
On Thursday morning, British Royal Marines in Gibraltar stormed an Iran-operated supertanker off the coast of Gibraltar, seizing the 300,000-tonne Grace 1 based on the accusation that it was carrying oil to Syria in possible violation of the European Union's sanctions on the war-torn Arab country.
According to Gibraltar authorities, the 28 crewmembers, who are nationals of India, Pakistan and Ukraine, are currently staying aboard the tanker, along with local police and customs officers boarding the vessel for a period of a probe.
Iran has condemned the move as "maritime piracy" and summoned Britain's ambassador in protest. It has vowed to employ all its political and legal capacities to secure the release of the vessel and uphold its rights.
Spain's acting Foreign Minister Josep Borrell stated on Friday that Madrid was planning to lodge a formal complaint against the UK and was studying the circumstances and looking at how the incident is affecting its sovereignty.
Spain, which challenges the British ownership of Gibraltar, has announced the seizure was prompted by a US request to Britain and appeared to have taken place in Spanish waters.
However, the British-claimed overseas territory rejected the claim, saying that Gibraltar had acted independently.
Gibraltar's position comes as a British foreign office spokesman had welcomed the move on Thursday, describing it as a "firm action by the Gibraltarian authorities, acting to enforce the EU Syria Sanctions regime".
The seizure of the Panama-registered Grace 1 comes as the US has pledged to cut Iran's oil exports to "zero" as part of the sanctions that it has reinstated after leaving a landmark multilateral 2015 nuclear deal with Iran in May last year, and many analysts take London's move as an indicator that the UK is not committed to the nuclear agreement and is much on the side of Washington in Trump anti-Iran maximum pressure campaign.