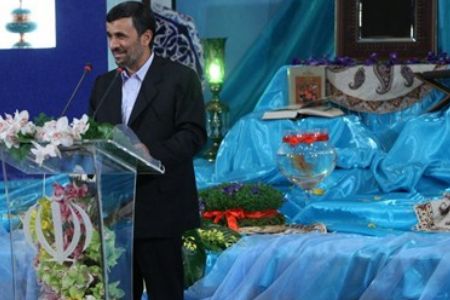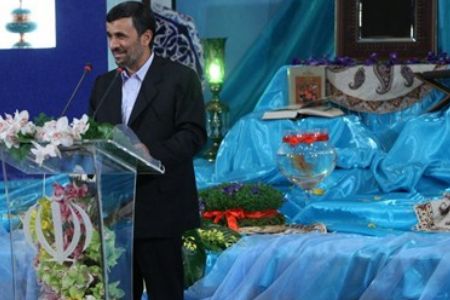 The second International Nowruz Celebrations has wrapped up in Iran with a declaration of peace, justice and compassion for the people of the world.
The festivities were held at Tehran's Vahdat Hall on March 27, hosting top officials from Persian-speaking countries.
Iranian President Mahmoud Ahmadinejad attended the event, along with his counterparts from Tajikistan, Armenia, Iraq, Turkmenistan and Afghanistan.
Kyrgyz First Deputy Prime Minister Omurbek Babanov, Qatari Crown Prince Sheikh Tamim bin Hamad Al-Thani and Omani Foreign Minister Youssef bin Alawi bin Abdullah were also among this year's guests.
Participants also issued a Nowruz declaration at the end of the event calling on the people of the region to commemorate the ancient tradition of celebrating the Persian New Year and concentrate their efforts in promoting Nowruz traditions through cultural, artistic, scientific and educational programs.
The 9-article declaration also calls on UNESCO Director General to take necessary measures for the development of an appropriate mechanism to facilitate the implementation of Tehran's Nowruz declarations.
Participants agreed to establish a 'Group of Prominent Figures' including poets and scholars to draft a 'Nowruz Document' and submit it during the opening session of the Third International Nowruz Celebrations.
They also extended their sympathies to the victims of Japan's earthquake and tsunami and their families as well as the martyrs of the recent uprising in the Middle East and North Africa.
Tajik President Emomali Rahman offered to host the 3rd International Nowruz Celebrations in March 2012.
Organized by Iran's Presidential Office, Cultural Heritage, Handicrafts and Tourism Organization, Ministry of Culture and Islamic Guidance, and Foreign Ministry, the second International Nowruz Celebrations were held to commemorate Nowruz as the cultural and spiritual heritage of Iran and the neighboring countries which celebrate the Persian New Year.
Nowruz, which coincides with the first day of spring on the solar calendar, is mostly celebrated in Iran, Afghanistan, Azerbaijan, India, Kyrgyzstan, Tajikistan, Pakistan, Turkey and Uzbekistan.
The International Day of Nowruz was registered on the UNESCO List of the Intangible Cultural Heritage of Humanity on February 23, 2010.
During Nowruz, Iranians set the Haft Seen as an expression of their traditional, spiritual, and social values.
Haft Seen is a table containing seven items starting with the phonemic Farsi equivalent of the English letter 'S' or 'Seen.' Sabzeh (freshly grown greens), Samanu (sweet wheat paste), Senjed (jujube), Seeb (apple), Seer (garlic), Somagh (sumac), and Sekeh (coin), are among items that begin with the Farsi letter Seen.
The items are believed to bring health, love, beauty and fertility in the coming year.