Iran
Tehran students censure desecration of shrine by militants in Syria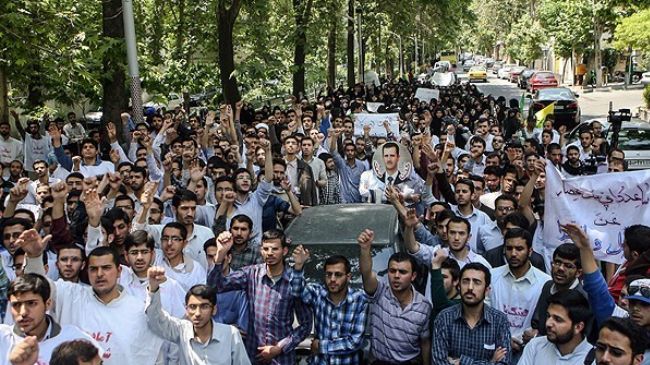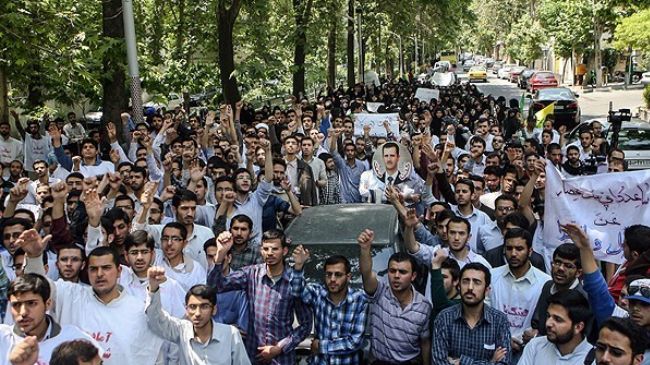 Students have staged a demonstration in the Iranian capital to condemn the desecration of the grave of a Shia Muslim figure in Syria.
Iranian and Syrian university students gathered in front of the United Nations office in Tehran on Monday to denounce recent measures by foreign-backed militants against the grave of Hujr ibn Adi in the Damascus suburb of Adral, Fars news agency reported.
The students called on some of the world powers to stop supporting foreign-sponsored militants fighting against the government of Syrian President Bashar al-Assad.
According to reports on Thursday, the militants attacked the mausoleum and exhumed the grave of Hujr ibn Adi, and took his remains to an unknown location.
The Al-Qaeda affiliated al-Nusrah group has claimed responsibility for the destruction of the shrine.
Hujr — a close companion of the Prophet Mohammad (PBUH) and a staunch supporter of the first Shia Imam Ali ibn Abi Talib (PBUH) — led the army of Muslims to victory in several crucial battles.
He and his sons finally fell victim to their loyalty to Imam Ali (PBUH) and were murdered on the orders of the Umayyad Caliph Muawiyah in the year 660 CE.
Also on Monday, The Leader of Islamic Ummah and Oppressed People Imam Seyyed Ali Khamenei said the enemies were seeking to fan the flames of hostility between the Shia and Sunni Muslims by desecrating the holy shrine.
Imam Khamenei called for the continued condemnation of desecration of the holy shrine of the Islamic figure.
The leader hailed the Shia community for its response to the incident, saying they showed that they are not deceived by the enemy plots. Ayatollah Khamenei also praised the Sunni brothers who condemned the incident.
"Muslims, especially elites and scientific, political and religious figures in the Muslim world should fulfill their duty towards this evil mindset and prevent the spread of sedition [between Muslims]."
The Syria crisis began in March 2011, and many people, including large numbers of soldiers and security personnel, have been killed in the violence.
The Syrian government says that the chaos is being orchestrated from outside the country, and there are reports that a very large number of the militants are foreign nationals.
Damascus says the West and its regional allies, such as Qatar, Saudi Arabia, and Turkey, are supporting the militants.
In an interview recently broadcast on Turkish television, Assad said that if the militants take power in Syria, they could destabilize the entire Middle East region for decades.
"If the unrest in Syria leads to the partitioning of the country, or if the terrorist forces take control… the situation will inevitably spill over into neighboring countries and create a domino effect throughout the Middle East and beyond," he stated.