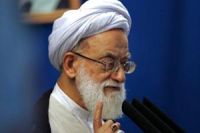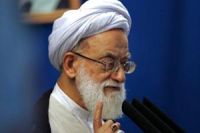 Tehran's interim Friday prayer leader, Ayatollah Mohammad Emami Kashani has said that the Zionist regime and its supporters were defeated by the Palestinian resistance in the course of the 8-day onslaught on the Gaza Strip.
He condemned the Zionist regime's attacks on Gaza and said that the Zionist regime once again attacked Gaza due to the all-out support extended by some Arab and Islamic states led by the US. But the Palestinian resistance managed to resist the attacks and prevented the Zionist regime from attaining its goals.
He emphasized that the nature of savagery, brutality and violence of the Zionist regime was made clear to the whole world.
He also referred to the enemies' plots against the Syrian nation and government adding that the enemies of resistance in line with the Zionist regime's objectives send weapons to the terrorists seeking to harm the resistance in the region. But they have failed to achieve their objective.
Ayatollah Mohammad Emami Kashani touched upon the conspiracies of the US and the Zionist regime against Islam underlining that the US and the Zionist regime will have no place in this region provided that the world of Islam becomes unified.
He also mentioned the uprising by Imam Hussein (Peace be upon him) saying that Imam Hussein followed a transparent, targeted and monotheistic path.
He also referred to the Basij week in Iran and its objective in defending the revolution and the Islamic system underscoring that the unity of the Iranian nation has nullified the conspiracies hatched by the enemies of the Islamic system.