Syria
Tehran's Syria Conference Stresses Need for Settlement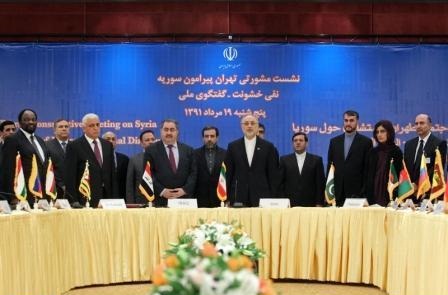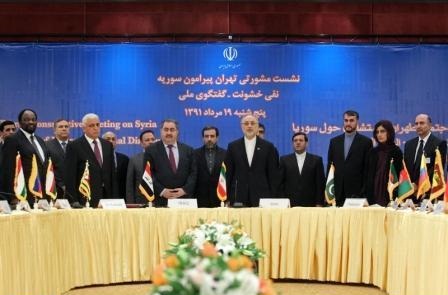 Countries participating in Tehran consultative meeting on Syria stressed the need for settlement of crisis there based on respecting international laws and Syria's sovereignty.
In a statement issued at the end of the one-day meeting Thursday night, the participants said "any solution to the crisis should be based on respecting international laws, non- interference in countries' internal affairs and respecting Syria's national sovereignty and territorial integrity."
It said the consultative meeting in Tehran on Syria was held to pave the ground for dialogue among countries in a peaceful atmosphere and consolidating regional and international all-out efforts to help the Syrian people out of the crisis, according to Iran's state agency.
The statement also expressed grave concern over the continuation of clashes and human rights violations in Syria which has caused massive destruction in the country and deep problems for the nation. It also voiced sympathy with the families of the victims of the armed clashes and terrorist actions
The statement further stressed the need to work out political solutions based on national dialogue as the sole way to settle the crisis in Syria and putting an end to violence there by encouraging warring sides to prepare the ground for a national dialogue.
It also supported Syrian nation's legitimate demands for reforms to establish democracy and promote all-out political participation of all parties and opposing groups in line with the right they have in contributing in running the country's affairs in a peaceful atmosphere far from any kind of interferences, the agency added.
The statement also focused on such issues as supporting any kind of initiatives based on goodwill to end Syria's crisis, need for observing international laws and need for dispatching relief aids to Syria.
The consultative meeting on Syria was held by the Islamic Republic of Iran under the presidency of Foreign Minister Ali Akbar Salehi.
Three foreign ministers, two acting ministers, seven deputy ministers, 15 ambassadors and representative of the United Nations in Tehran attended the meeting.
Salehi said the conference was successful. "Attendance of more than 30 countries at the conference shows its success and we hope that more countries whose policies correspond and are in line with Iran's diplomacies attend similar conferences in the future," the foreign minister added.