Syria
Tens of Bodies Killed in US Airstrikes Found in Raqqa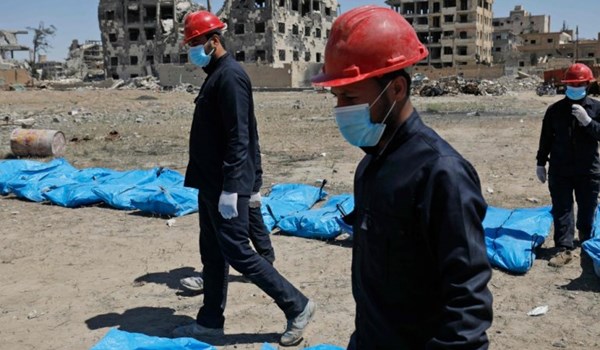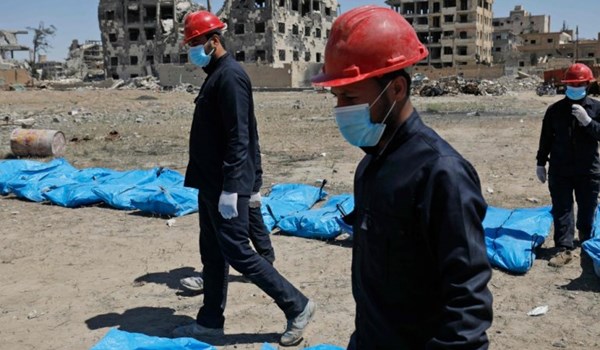 Over 50 corpses of the people killed in the US airstrikes and buried under the debris of a building in Raqqa were discovered on Thursday one day after several mass graves were found in the ruins of the province.
Local sources in Raqqa reported that more than 50 bodies of civilians killed in the US raids were found in one of the buildings of Harat al-Baldou in Raqqa city, adding that most of the dead are women and children.
Relevant reports quoted forces affiliated to Raqqa civil council as saying on Wednesday that at least 450 corpses were discovered in a mass grave near al-Forat stadium in Southern Raqqa.
Most of the bodies found in mass graves in Raqqa belong to the victims of the US airstrikes and the attacks launched by Washington-backed Syrian Democratic Forces (SDF) when they were attempting to occupy the region as well as those killed by the ISIL terrorist group.
Meantime, a media outlet reported on Wednesday that a sum of 1,236 bodies of the victims killed by US-led coalition air raids and Washington-backed militias were discovered from three other mass graves in Raqqa city in Northeastern Syria.
The Arabic-language al-Watan news website reported that a sum of 1,236 bodies of civilians that had been killed in the US air raids and SDF attacks were unearthed from mass graves in Panorama, al-Rashid Sports Stadium and the Zoo in Raqqa.
It further said that unearthing of bodies was still underway in the Zoo and Panorama, adding that most of the bodies discovered so far had been killed in the US air raids and attacks by the Syrian Democratic Forces.