Yemen
Tens of Foreign Mercenaries, Pro-Hadi Forces Killed in Taiz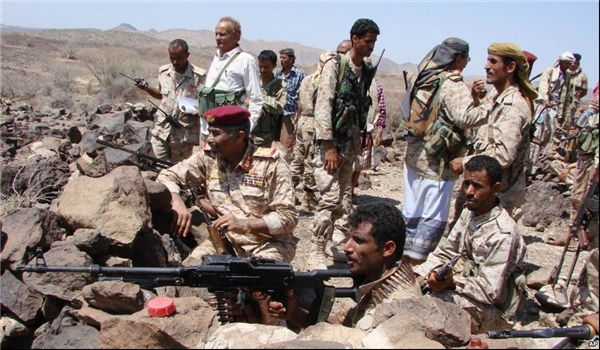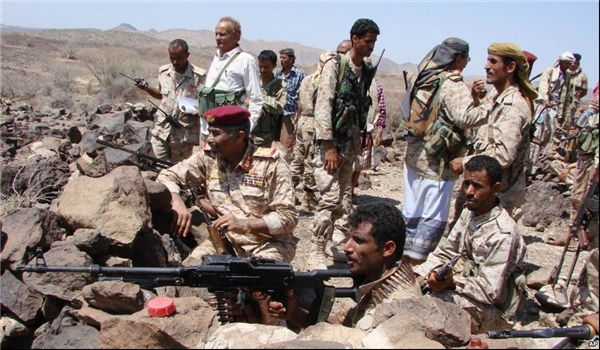 Yemen's army and popular forces, in fierce clashes in Taiz province on Monday, managed to inflict heavy casualties on foreign-backed militants, including several Saudi-hired mercenaries, and forces loyal to fugitive President Mansour Hadi.
Hosham Abdolmalek, a leader of Yemen's popular committees, told FNA that tens of Saudi mercenaries and their commanders as well as militias loyal to Hadi were among the casualties of the clashes that broke out in rugged al-Tha'bat region in Yemen's strategic province of Taiz.
Abu Ammar al-Nakhai, Abdullah Abu Hosham, Majed Yahya al-Samei, Mohammad Mojali, Mostafa Dirham and Amin al-Makhlafi were the field commanders of pro-Hadi forces and Saudi mercenaries killed in Taiz, he added.
The developments came after sources in Riyadh revealed that the Saudi government has been forced to withdraw its support for Hadi after its disgraceful failures in Yemen and following the UN's measure in putting the so-called Arab coalition, led by Saudi Arabia, on its black list for committing war crimes during the Yemen war.
Meantime, pundits believe that another reason for Riyadh to halt support for Hadi is the fact that the international community has now come to know that his legal tenure as president of Yemen ended in 2016.
The UN has blacklisted Saudi Arabia and its partners in crime for maiming and killing innocent children with the ongoing military aggression in Yemen.
According to an annual report on children and armed conflict released by the UN, the Saudi-led coalition is responsible for 60 percent of a total of 510 deaths and 667 woundings in 2015 after its regime-change campaign began in March, 2015 – a six-fold increase, as Human Rights Watch (HRW) separately points out.
HRW has similarly warned that the flow of weapons to Saudi Arabia has "facilitated appalling crimes" in Yemen, and that the US and other Western nations are complicit in the deaths of children there due to their continued allegiance with the Persian Gulf nation.