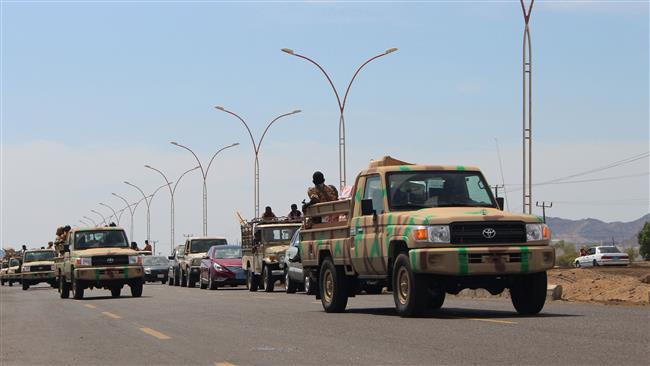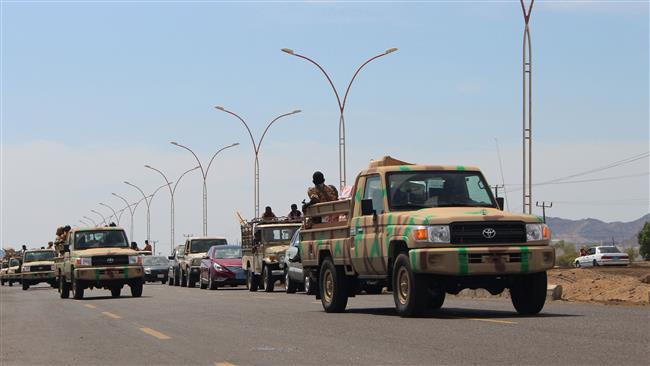 Tens of Saudi-led forces have reportedly been killed when Yemeni army soldiers backed by fighters from allied popular committees targeted their military base in Yemen's central province of Ma'rib.
On Friday, the fatalities came after Yemeni soldiers and their allied fighters lobbed a barrage of rockets at a military camp on the outskirts of the provincial capital city of Ma'rib, located 250 kilometers (150 miles) east of the capital, Sana'a, Arabic-language al-Masirah satellite television network reported.
Yemeni forces also fired tens of mortar rounds at al-Mehzar and Ain al-Thourin military bases on the outskirts of al-Rabu'ah town in Saudi Arabia's southwestern Asir region. There were no immediate reports of possible casualties.
Separately, Yemeni soldier launched a retaliatory attack against al-Ash base in Saudi Arabia's southwestern border region of Najran, thought no casualties were reported.
Also on Friday, Yemeni soldiers backed by popular committees took control of the strategic Bahzan Heights in the eastern part of the embattled Arab country from militiamen loyal to fugitive former President Abd Rabbuh Mansour Hadi.
Meanwhile, al-Qaeda militants reportedly killed at least 15 Yemeni soldiers in separate ambushes on security checkpoints in the southeastern province of Hadhramaut.
Yemeni security officials, speaking on condition of anonymity, said the gunmen launched two surprise attacks on the soldiers late on Thursday, adding that 19 al-Qaeda members were killed in the ensuing clashes.
Yemen has been witnessing relentless airstrikes by Saudi Arabia since March 26. The military aggression allegedly aims to undermine the Houthi Ansarullah movement and bring Hadi back to power.
Al-Qaeda terrorists have also stepped up their acts of violence in Yemen amid Saudi Arabia's military campaign.
The Yemeni Civil Coalition, which monitors the crimes committed during the Saudi aggression against Yemen, says nearly 7,500 people have lost their lives and over 16,000 others wounded in the Saudi raids since late March. However, the UN has put the death toll at 5,700, including 830 women and children.
The strikes have also taken a heavy toll on the impoverished country's facilities and infrastructure, destroying many hospitals, schools, and factories.