Syria
Tens of Terrorists Besieged by Army in Damascus' Jobar Region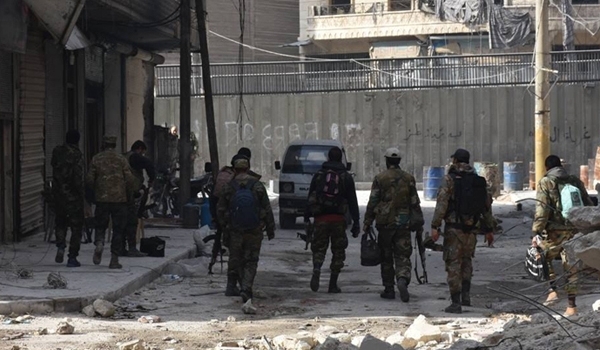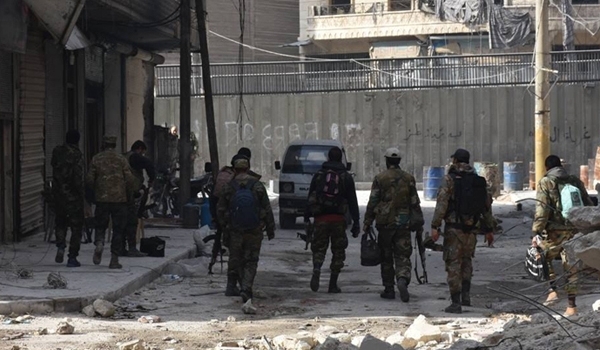 The Syrian army forces pushed back the terrorists' massive offensive on their positions in the Northern parts of Jobar and laid siege on tens of militants in the region after launching a new military operation.
The Syrian soldiers could besiege a large number of terrorists who had attacked the army bases in Jobar, in the buildings near al-Ma'amel district.
The army had sent recruitments and military equipment to Jobar after the terrorists attacked the region from al-Qalamoun.
According to field sources, the army commanders have called on the besieged terrorists in al-Ma'amel district to lay down their arms and surrender to the government forces.
In a relevant development on Sunday, the Syrian army forces warded off the terrorist groups' heavy offensives against their positions in Jobar region.
The army soldiers defused the terrorists' attempts in Jobar region who wanted to enter al-Abbasiyeen region's parking lots.
A field source said that the militants were first trying to open their way by suicide attacks and detonating two bomb-laden vehicles.
"After the cars exploded, heavy clashes erupted between the Syrian army and the terrorists of the al-Nusra (Fatah al-Sham) Front who sought to carry out suicide attacks but they couldn't occupy the army's positions in the region," he added.
The source said that the Syrian fighter jets and missile and artillery units then heavily pounded the terrorists' centers and drove them out of the region.