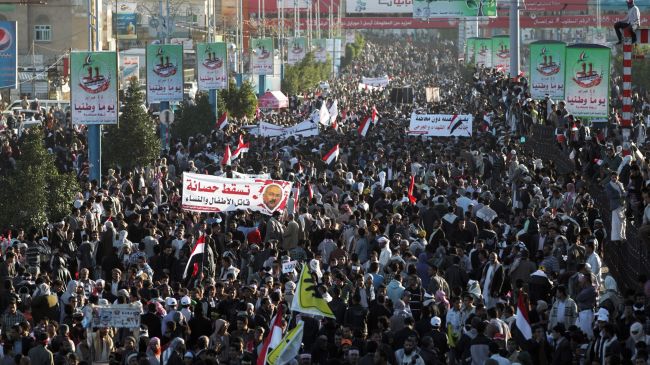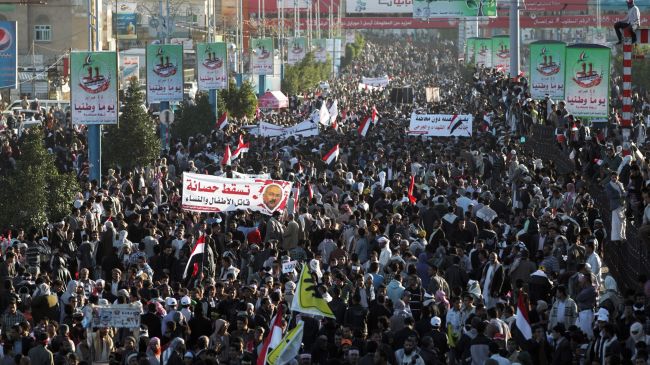 Tens of thousands of people have held a demonstration in the Yemeni capital Sana'a, calling for the resignation of the government, Press TV reports.
The protest march was held on Tuesday to mark the third anniversary of the start of the 2011 revolution that forced longtime dictator Ali Abdullah Saleh to quit in early 2012.
The protesters demanded the implementation of the goals of the revolution, vowing to continue protests until their demands are met.
Saleh, who ruled Yemen for 33 years, stepped down in February 2012 under a US-backed power transfer deal in return for immunity, after a year of mass street demonstrations demanding his ouster.
His vice president, Abd Rabbuh Mansur Hadi, replaced him on February 25, 2012 following a single-candidate presidential election backed by the United States and Saudi Arabia.
Yemenis continue to hold demonstrations to call for the political restructuring of the country and to demand the dismissal of members of the Saleh regime from their government posts.
At Tuesday's rally, the protesters chanted slogans against the government of President Hadi, which they say is full of corrupt officials.
"We came out today to demand the downfall of this government and prosecution of corrupt Yemeni ministers who have robbed the nation," a protester told Press TV.
The demonstrators called on the people to take control of the destiny of the country.
"We call on the Yemeni people to revolt against this corrupt government and stand firm and united to demand their basic rights," another protester said.