Syria
Terrorist attack on Kafr Naboudeh ends in disaster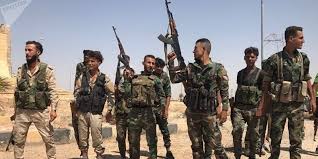 On Tuesday, the Syrian Arab Army (SAA) foiled an attack launched by the terrorists on the town of Kafr Naboudeh in the Hama Governorate.
Led by Hay'at Tahrir Al-Sham, the terrorists began their attack by storming the Syrian Army's positions with approximately 25 fighters. However, the jihadist rebels were unable to score any type advance or even inflict any damage on their defenses.
According to the Russian Reconciliation Centre, the Syrian Arab Army managed to foil the terrorist attack, killing more approximately ten HTS members before they retreated back towards Al-Hobeit in northwestern Hama.
"More than 20 militants from the Hayat Tahrir Ash-Sham [formerly known as al-Nusra Front] terrorist group, with the support of three all-road vehicles armed with large-caliber machine guns, launched an attack on the town of Kafr Nabudah. The units of the Syrian government forces destroyed an off-road vehicle and killed about 10 terrorists," the center's commander, Maj. Gen. Viktor Kupchishin said at a daily news briefing.
Tuesday's attack by HTS was not meant to capture Kafr Naboudeh, but rather inflict damage on the Syrian Arab Army's defenses at the eastern flank of the town. Furthermore, it appears they were testing the Syrian Army's defenses for a later attack.
Kafr Naboudeh was captured by the Syrian Arab Army last Sunday. They previously lost the town to the jihadist rebels one week prior to reclaiming it.