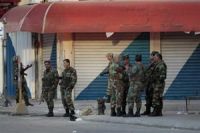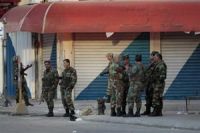 Throughout confessions that were aired by the Syrian TV Network, the operative, Yaser Abdul-Nablosi, uncovered the murder of Syrian security forces in the city of Daraa and mutilation of their bodies.
According to Syrian news agency, SANA, a Syrian security official on Tuesday reported on the continuation of search operations to find armed terrorist outfits, and the apprehension of a number of other operatives in the city of Daraa.
Based on this report, throughout these operations, a cache of weapons and ammunitions were also discovered in an underground hideout in the vicinity of city of Daraa and the regional orchards.
The mercenaries that are supported by Arab and Western regimes have taken advantage of people's peaceful demonstrations in the past few weeks throughout a number of Syrian cities, including the city of Daraa, while attacking the Syrian security forces and ordinary citizens.
Many of these mercenaries have owned to receiving money from foreign parties to wreak havoc and stir insecurity in Syria.