Africa
World News
Terrorist Daesh claims responsibility for Saturday's bomb attack in Uganda
Daesh terrorist group has claimed responsibility for Saturday's bomb attack in Uganda's capital Kampala, which killed at least one person and injured three others.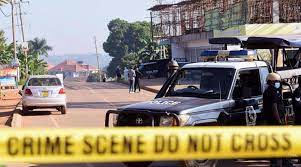 In a statement posted in an affiliated Telegram channel late on Sunday, the group said some of its members detonated an explosive device in a bar in Kampala where "members and spies of the Crusader Ugandan government were gathering."
Ugandan police said the bomb, packed with nails and shrapnel, was placed under a table at a popular restaurant by three men disguised as customers. It exploded moments after they had left the scene.
The powerful explosion killed a 20-year-old waitress and injured three other people, two of whom were in critical condition, police said.
Earlier, Ugandan President Yoweri Museveni wrote on Twitter that he had been briefed that three people "left a package" at the scene that later exploded.
"It seems to be a terrorist act but we shall get the perpetrators," he wrote, hours before Daesh claimed responsibility for the attack.
I have been briefed on the bomb incident in Kwata zone, Komamboga. The Information I have is that 3 people came and left a package in kaveera which later on exploded, killing 1 person and injuring 5 others. 
It seems to be a terrorist act but we shall get the perpetrators.— Yoweri K Museveni (@KagutaMuseveni) October 24, 2021
"The public should not fear, we shall defeat this criminality like we have defeated all the other criminality committed by the pigs who don't respect life," Musevani said.
On October 8, the Daesh terrorist group claimed its first attack in the East African country, a bomb attack on a police post in Kawempe, in close proximity to the scene of attack on Saturday.
In a statement, the Takfiri group claimed a unit from its Central Africa operation had detonated an improvised explosive device that resulted in injuries and damage to police infrastructure.
In 2010, Somali's al-Shabaab militant group killed 74 people in twin bombings at a restaurant and at a rugby club in Kampala, during the telecast of the World Cup final.
The attackers cited Ugandan troops being deployed in Somalia as a reason for the attack.