Lebanon
Terrorist group threatens more attacks on Hezbollah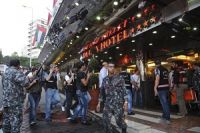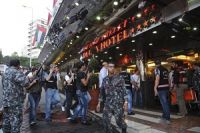 An al-Qaeda-affiliated group has threatened to carry out more attacks against Lebanese resistance movement Hezbollah unless it ends its military operations against Takfiri terrorists in Syria.
According to Press TV reports, Sirajuddin Zurayqat, a spokesman for the al-Qaeda-linked Abdullah Azzam Brigades, threatened on his Twitter account that the terrorist group would continue targeting Hezbollah as long as it helps the Syrian army in its battle against foreign-backed extremists.
The remarks came after about a dozen people, including three security forces, were injured when a Saudi national detonated his explosives in his hotel room in the capital, Beirut, during a raid by Lebanese security forces on Wednesday.
The attack came a day after a car bombing killed a security officer and injured at least 20 people in a southern neighborhood of Beirut.
Over the past months, Lebanon has been suffering from terrorist attacks by al-Qaeda-linked militants as well as random rocket attacks, which are viewed as a spillover of the conflict in Syria.
Hezbollah Secretary General Seyyed Hassan Nasrallah has said the resistance group's mission in Syria is aimed at preventing the rise of "Western-backed Takfiri forces," who threaten Lebanon's security.