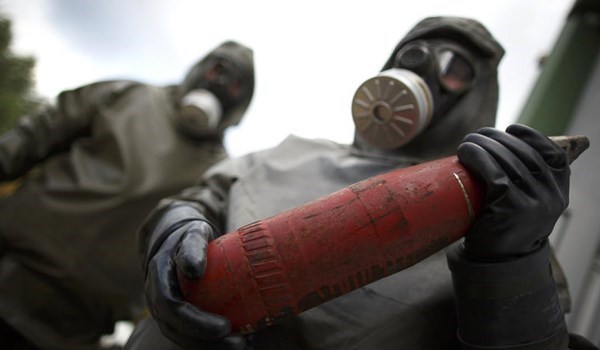 The commanders of terrorist groups held a meeting in Idlib province to prepare for false-flag chemical attacks on areas under the control of the Turkish army to falsely accuse the Syrian Army, sources said.
Special sources in Idlib said that the commanders of Tahrir al-Sham al-Hay'at (the Levant Liberation Board or the Al-Nusra Front) have decided to conduct fresh false chemical attacks in the province to point the finger of accusations at the Damascus Army.
They noted that the terrorist commanders have agreed to conduct chemical attacks on spots 9 and 10 controlled by the Turkish Army to portray that the Syrian Army has carried out the attack.
Meantime, the Syrian Army's artillery and missile units pounded the terrorists' military positions in the towns of al-Latamineh, Kafar Zita and al-Hobait in Northern Hama and Southern Idlib in response to the terrorists' rocket attacks on residential areas of Sheikh Hadid and al-Jornieh in Northern Hama.
The Syrian Army's artillery units also pounded Tahrir al-Sham's military convoys in the town of al-Mastoumeh and near Jabal al-Qarbain towards the city of Ariha in Southern Idlib, inflicting heavy losses on the militants.
The Arabic-language website of the Russian Sputnik news agency also quoted a military source as saying that over 25 terrorists have been killed in al-Jalmeh in Northern Hama and several of their military vehicles, including the Turkish Army's armored vehicles were destroyed.
In a relevant development last Tuesday, the Syrian army dispatched massive military convoys to Northern Hama and Southern Idlib as heavy fighting between the two sides inflicted tens of casualties on the terrorists.
A military convoy comprising hundreds of Syrian soldiers and massive military equipment were dispatched from Hama Airport to contact lines with terrorists in Northern and Northwestern Hama as well as Southern Idlib to reinforce the Syrian Army's military positions in those regions.
Three military convoys comprising tens of military vehicles carrying military equipment and a large number of fresh troops arrived in Northern Syria from Damascus province.
The Arabic-language Al-Watan newspaper reported that the Syrian Army's artillery units and air force as well as the Russian air force pounded the terrorists' military positions and movements in all fronts in Northwestern Hama and Southern Idlib, including the towns of Kafar Zita, Mourak and al-Latamineh, destroying all their military positions and killing tens of terrorists.
Meantime, sources affiliated to the militants admitted that at least 52 terrorists, including two notorious commanders of Jeish al-Izza terrorist group, namely Mohammad Khaled al-Saba and Yasser Ahmad al-Helal were killed.