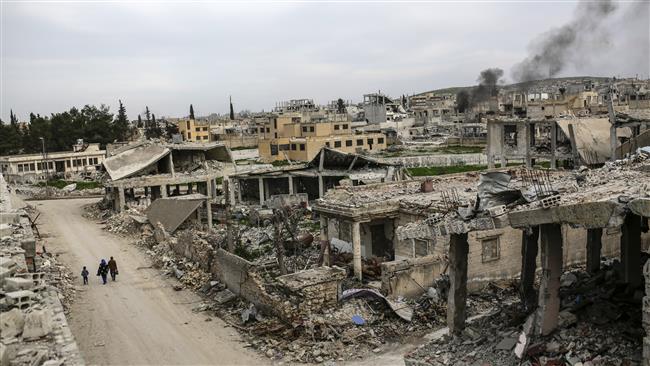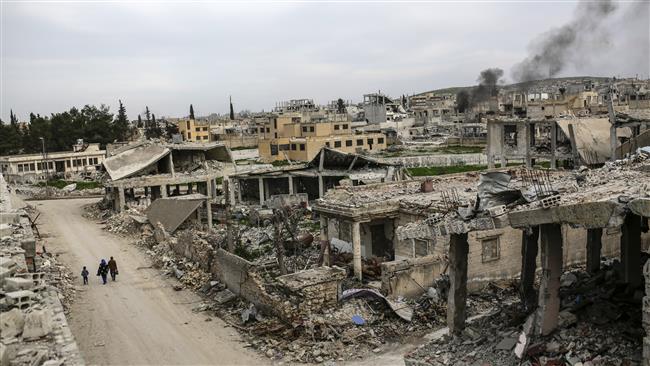 Car bomb attacks by Takfiri ISIL terrorists have reportedly killed at least 18 people and injured 40 more in Syria's northern border town of Kobani amid renewed clashes there between Kurdish forces and the extremist militants.
The Takfiri militants detonated two explosives-laden vehicles early Thursday after intruding into the town disguised as Syrian Kurdish fighters, Turkey's Anadolu news agency reported, citing a source from the Syrian Kurdish forces who spoke on condition of anonymity.
The bombings took place near Turkey's Mursitpinar border crossing in the Suruç district of southeastern Şanlıurfa Province, the report cited local Turkish officials as saying.
A number of women and children were also among the victims.
The report further said the battles have recently intensified in central Kobani, known as Ain al-Arab in Arabic, between the ISIL elements and Kurdish forces from the People's Protection Units (YPG).
The fresh ISIL infiltration into Kobani comes months after the Takfiri terrorists were driven out of the Syrian border town by Kurdish forces back in January after nearly 100 days of intense battles.
The extremist militants vowed to return and defeat the Kurds defending Kobani after they lost control of the strategic border area, located in Aleppo Province.
The development came as the Kurdish forces had moved from Kobani to secure other ISIL-controlled areas in neighboring Raqaa Province.
Syrian media say Turkey has facilitated the re-entry of ISIL Takfiri militants into Kobani. Ankara has, however, rejected the report.
Turkey has also been one of the main supporters of the militancy against Syrian President Bashar al-Assad, with reports showing that Ankara actively trains and arms militants operating in Syria.