Syria
Terrorist ISIL Further Withdraws from Last Bastion in Deserts of Sweida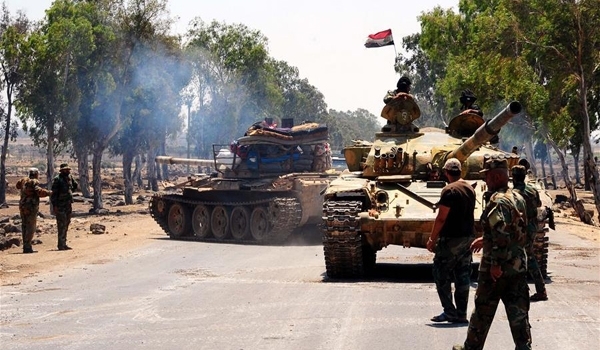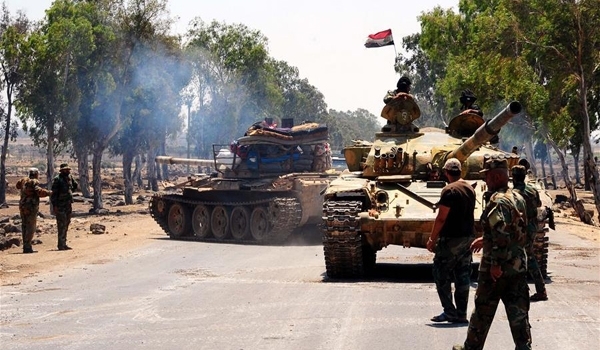 The Syrian army continued cleansing operations against remnants of the ISIL terrorist group in the Eastern Badiyeh (desert) of Sweida on Thursday, regaining control of new regions in Taloul al-Safa.
The army units engaged in heavy clashes with ISIL militants in Hawa Hussain in Taloul al-Safa, advancing in a nearly 2-km impassable region.
Meantime, the army's artillery and missile units as well as the air force targeted the terrorists' positions and moves in Taloul al-Safa with heavy attacks, destroying several positions and killing a number of militants.
The army forces also killed 15 terrorists who wanted to attack the Syrian army positions and break the siege on Taloul al-Safa.
A military source referred to the Syrian army's advance in several pivots in the depth of Eastern Badiyeh of Sweida, saying that the Syrian army forces have retaken control of several tall hills overlooking the terrorists' base in Taloul al-Safa.
Meantime, the ISIL terrorists withdrew from unlevelled and rocky regions in Taloul al-Safa as the Syrian army is advancing.
In a relevant development on Tuesday, the Syrian army men managed to drive ISIL out of more lands in Taloul al-Safa region in the Eastern deserts of Sweida.
The army soldiers engaged in fresh battle with ISIL Northeast of Taloul al-Safa in Eastern desert of Sweida, advancing 7km in the depth of terrorists' positions.
In the meantime, the army's artillery and missile units and aircraft pounded the positions and movements of ISIL in the same region, inflicting major losses on the terrorists.
Fields sources, meantime, reported that the army men have reached at Talal Marati region as terrorists retreated towards the depth of the rocky heights.