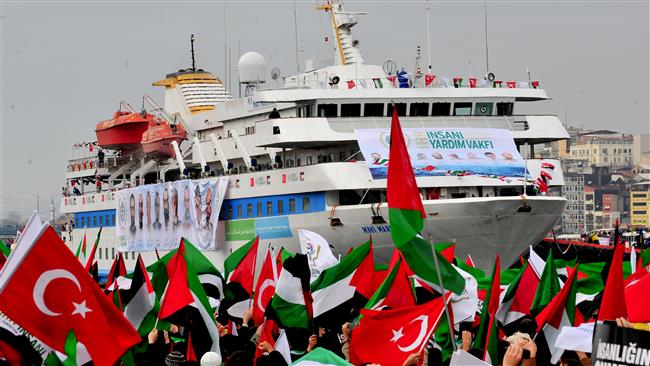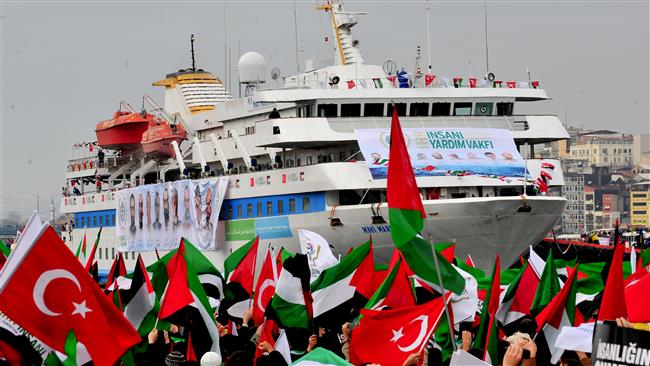 Terrorist Israel and Turkey government have reached an agreement on the normalization of their relations six years after an Israeli raid on a Gaza-bound Turkish aid flotilla killed 10 Turkish activists in high seas and sent their ties spiraling into a cycle of tensions.
An Israeli official said on condition of anonymity on Sunday that the deal had been reached but would be officially announced on Monday.
Israeli commandos attacked the Freedom Flotilla in international waters in the Mediterranean Sea on May 31, 2010, killing nine Turkish citizens and injuring about 50 other people. A tenth Turkish national later succumbed to the injuries sustained in the raid.
Ankara initially reacted with fury. It suspended its military ties with Israel and expelled the Israeli envoy from Ankara in September 2010 over Tel Aviv's refusal to apologize for the killings.
However, Turkey gradually engaged in not-so-public talks with the Israeli regime to mend ties. Since last December, the two sides have held several rounds of talks aimed at restoring the tense bilateral ties.
The United States was reportedly pushing the two sides to resolve the dispute. Israeli Prime Minister Benjamin Netanyahu traveled to the Italian capital, Rome, where negotiations are said to have been held, to meet US Secretary of State John Kerry on Sunday.
A Turkish official also said Turkey's Prime Minister Binali Yildirim is scheduled to talk about the deal at 1:00 pm (1000 GMT) in Ankara on Monday.