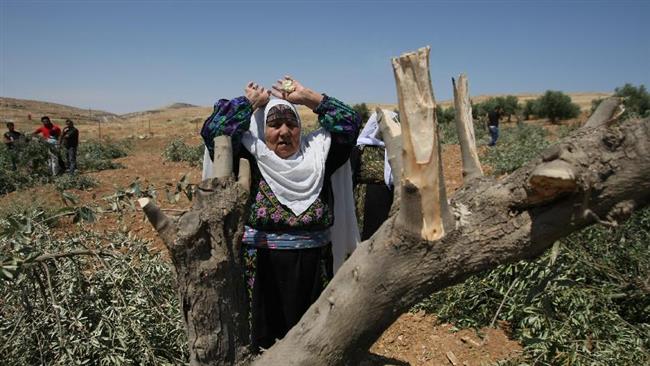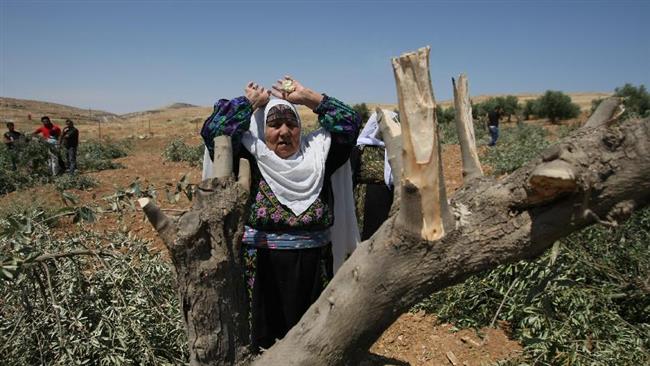 Terrorist Israeli military forces have uprooted dozens of Palestinian olive trees in the occupied West Bank as part of plans to resume constructing a separation wall that snakes across occupied Palestinian territories and isolates large swathes of them from areas where Israeli occupants are concentrated.
On Monday, Israeli bulldozers pulled up the trees in the Bir Onah area of Beit Jala town, located 10 kilometers (6.2 miles) south of al-Quds (Jerusalem), and then leveled the ground, which lies near the illegal settlement of Har Gilo.
The trees reportedly belonged to six Palestinian families. One of the owners was assaulted and injured while attempting to prevent the Israeli soldiers from razing the trees.
The resumption of the construction work came despite the fact that the Israeli Supreme Court had ruled in April that such work had to be halted in Beit Jala, and ordered a reconsideration of the structure.
Earlier in the day, Israeli bulldozers demolished a number of residential buildings in an area populated by Palestinian Bedouins in East al-Quds.
Witnesses and local Palestinian residents said the bulldozers, which were escorted by Israeli forces, demolished structures belonging to more than 20 families from the Jahalin Bedouin community in Khan al-Ahmar area.
This came after the Israeli regime issued demolition orders to hundreds of Palestinian Bedouins living in the region.
Palestinian Bedouins have refused to leave their land despite the Israeli regime's determination to press ahead with the forceful eviction of the ethnic group.
More than half a million Israelis live in over 120 illegal settlements built since Israel's occupation of the Palestinian territories in 1967.
Palestinians are seeking to create an independent state on the territories of the West Bank, East al-Quds, and the besieged Gaza Strip and are demanding that Israel withdraw from the occupied Palestinian territories.