Palestine
Terrorist israeli forces kill Palestinian attempting to cross Gaza border fence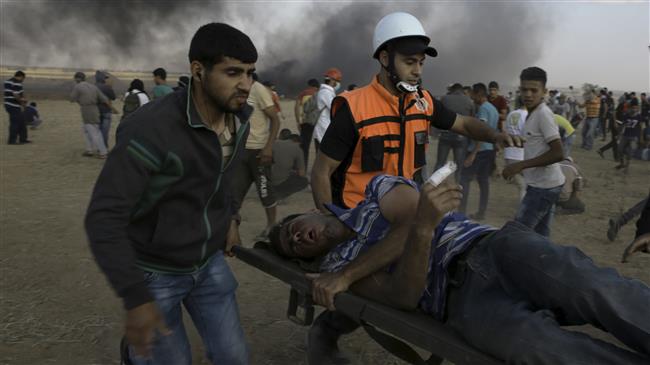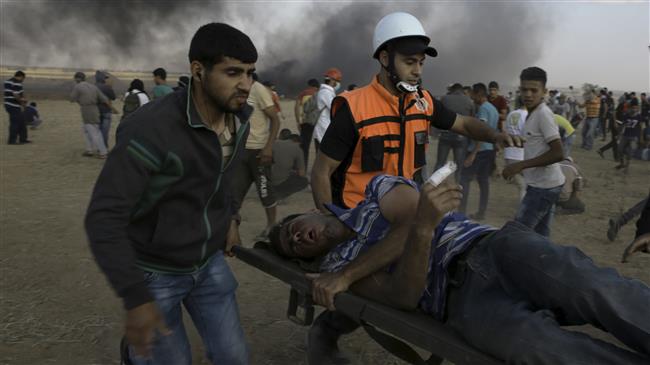 Israeli military forces have shot and killed a young Palestinian man close to the border fence between the besieged Gaza Strip and the occupied territories.
Palestinian sources, speaking on condition of anonymity, said two young Palestinian men approached the frontier east of Khan Younis city, located about 25 kilometers (15 miles) south of Gaza City, on Monday afternoon, and sought to cross it.
Israeli troopers, positioned at the border fence, then opened fire, killing one of them on the spot. The other Palestinian youth managed to escape.
Palestinian sources said Israeli forces did not allow ambulances and medical staff to reach the site until the man was pronounced dead. The slain Palestinian was later identified as Ramzi al-Najjar.
There are reports that Israeli soldiers are withholding Najjar's body for use as a bargaining chip.
At least 122 Palestinians have been killed by Israeli forces since the "Great March of Return" began in the Gaza Strip on March 30. Fourteen children are among the fallen Palestinians.
About 13,300 Palestinians also sustained injuries, of whom 300 are in a critical condition.
The occupied territories have witnessed new tensions ever since US President Donald Trump on December 6, 2017 announced Washington's recognition of Jerusalem al-Quds as Israel's "capital" and said the US would move its embassy to the city.
The dramatic decision triggered demonstrations in the occupied Palestinian territories and elsewhere in the world.
The status of Jerusalem al-Quds is the thorniest issue in the decades-long Israeli-Palestinian conflict.
The Palestinians see East Jerusalem al-Quds as the capital of their future state.
In a final communiqué issued following an emergency meeting in Istanbul on May 18, the Organization of Islamic Cooperation (OIC) condemned the May 14 massacre of dozens of Gazans as "savage crimes committed by the Israeli forces with the backing of the US administration."
It also urged the UN to "form an international investigation committee into the recent atrocities in the Gaza Strip, and enable the committee to initiate field investigation."
The OIC further demanded "the international protection of the Palestinian population including through dispatching of international protection force" in the face of "unchecked crimes" committed by the Tel Aviv regime.
Israeli forces detain over dozen Palestinians in West Bank
Meanwhile, Israeli military forces have reportedly arrested at least 13 Palestinians, including a woman, during separate overnight operations across the occupied West Bank.
Local sources, speaking on condition of anonymity, said Israeli military vehicles rolled into the southern West Bank city of al-Khalil (Hebron), located 30 kilometers (19 miles) south of Jerusalem al-Quds, and violently ransacked houses before taking nine Palestinians away to an unknown location.
Israeli soldiers also stormed Bethlehem, situated about 10 kilometers (6.2 miles) south of Jerusalem al-Quds, and detained three Palestinians there. They were identified as Muhammad Nasim Taqatqa, Sami Oud Khalil Atallah, and Yazid Fathi Muhammad Amrin.
In the northern West Bank town of Meithalun, located 26 kilometers south of Jenin, Israeli forces detained a Palestinian man named Sami Sadeq Naarat.
More than 7,000 Palestinians are reportedly held at Israeli jails. Hundreds of the inmates have apparently been incarcerated under the practice of administrative detention, a policy under which Palestinian inmates are kept in Israeli detention facilities without trial or charge.
Some Palestinian prisoners have been held in administrative detention for up to eleven years.
Palestinian inmates regularly stage hunger strikes in protest at the administrative detention policy and their harsh prison conditions in Israeli jails.
According to reports, at least 13 Palestinian lawmakers are currently imprisoned in Israeli detention facilities. Nine of them are being held without trial under administrative detention.