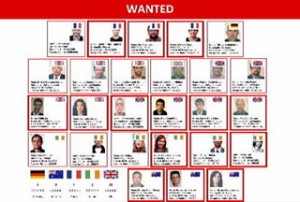 As international community believes in justice of his case, Polish authorities arrest terrorist Mossad agent who is linked to assassination of Hama's military wing leader Mahmoud al-Mabhouh in Dubai , last January.
The terrorist, using the name Uri Brodsky, is suspected of working for Mossad in Germany and helping to issue a fake German passport to a member of the Mossad operation that allegedly killed Hamas agent Mahmoud Al-Mabhouh in Dubai in January, a spokesman for the German federal prosecutor's office told The Associated Press.
Brodsky was arrested in early June upon his arrival in Poland because of a European arrest warrant issued by Germany which is now seeking his extradition, the spokesman said, declining to be named in line with department policy.
The spokesman had no estimate of how long it could take for Brodsky to be extradited from Poland to Germany, saying "the matter is now in the hands of the Polish authorities." If Brodsky agrees, the extradition could take a few days, but that isn't likely, the spokesman said.
In Warsaw, Monika Lewandowska, a spokeswoman for Polish prosecutors, confirmed that the suspect, identified only as Uri B., was arrested at the city's international airport on June 4. She told the AP that the arrest warrant was made "in connection with the murder of a Hamas member in Dubai." The suspect appeared before a Polish court on June 6, and was ordered to remain in temporary arrest for up to 40 days, she said. Lewandowska had no information on his possible extradition.
In Israel, the Foreign Ministry said without elaborating that it was aware of the man's fate. "At the moment, we're looking into that like any other Israeli who has been arrested, and he's getting consular treatment," spokesman Andy David said.
Police in the United Arab Emirates said the elaborate hit squad linked to the Jan. 19 slaying in Dubai of Al-Mabhouh — one of the founders of Hamas' military wing — involved some 25 suspects, most of them carrying fake passports from European nations.
Dubai's police chief, Lt. Gen. Dahi Khalfan Tamim, has said he is nearly "100 percent" certain that Mossad, Israel's spy agency, masterminded the killing.
According to Mabhouh's family, the latest developments show that "the whole world rejects such crimes, carried out in cold blood, out of hand." In the statement, parts of which were published by al-Jazeera, the family urged the United Arab Emirates to act quickly and demand that the Israeli suspect be handed over to it, so he can be indicted at the site of the assassination.
According to the report, the German probe conducted in recent months revealed that Brodsky's role was to assist Mossad men in acquiring German passports. This would mean that Brodsky was responsible for the logistical operation in Germany in respect to the Mabhouh killing, where the hit team apparently used a real German passport issued to a "Michael Bodenheimer."
Polish officials confirmed that the Israeli suspect was detained in connection with the Dubai assassination.
International community has condemned Israeli criminal act against al-Mabhouh many countries like Australia and Britain took action against Isarel, punishing diplomatic figures who were accused of forgery of passports used in assassination crime carried out in Dubai by Mossad terrorist.
Israel as criminal entity, has a black history of assassination crimes against most effective figures in Palestinian resistance factions.
Assassination policy by Israel is considered as weakness expressed by cowards of Mossad when feeling infirmity towards strength of Palestinian resistance factions.
Palestinian martyrs who were assassinated by Israel are: Shaikh Ahmed Yasin , the spiritual leader of the Islamic resistance movement, Hamas, Dr Abdel Aziz al-Rantisi, Dr Ibrahim al-Maqadima, Dr, Ismail Abu Shanab, Jamal Saleem And Jamal Mansour, in addition to top leader of Al –Qassam Brigades, Shaikh Salah Shihada and Yahya Ayash the headache for Israel.
Former leader for Fatih movement, Abu Jihad, and even Yasir Arafat who was peace partner with Israel who was also assassinated by poison.
For Islamic Jihad, Dr Fathi al Shiqaqi who was assassinated in Malta by Mossad terrorists.
Abu Ali Mustafa , the general secretary for the PFLP, who was assassinated by Israeli air forces inside his office in Ramallah.
In addition to Many other Palestinian heroes who were assassinated by cowards of Mossad, and Israeli forces inside and outside of Palestine.