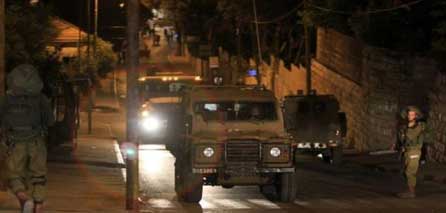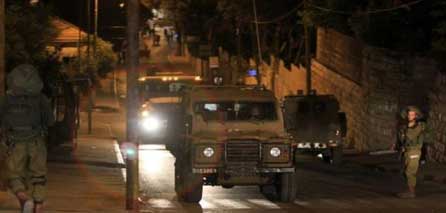 Zionist Israeli occupation forces launched, on Sunday morning, a campaign of arrests in various areas of the occupied West Bank, during which they raided several homes, and wounded several Palestinians in clashes.
According to our correspondent in the West Bank, the occupation arrested five Palestinian youths, after raiding "Dheisha" refugee camp in Bethlehem.
He said that the detainees are Hamza Abu Ajiba, Uday Shehadeh, Mohammad Sha'fot, Saber Thawabteh, and Adib Shafiq Qawasmi, brother of two martyrs and a prisoner.
The Israeli forces arrested the Palestinian woman Haneen Abdul Qader Saleh, 39 years, from the suburb of "Shwaika" in Tulkarem.
In a related context, six Palestinian youths were injured during clashes with Israeli forces in different areas.
The Israeli forces stormed the house of the martyr Abdel Fattah al-Sharif, from Al Khalil, detained his brother and interrogated him.