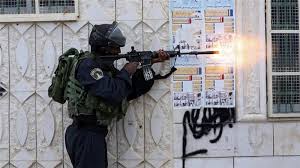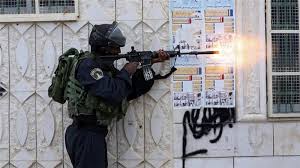 At least three more Palestinian have been shot dead in the occupied West Bank as clashes rage on over Zionist Israeli regime's relentless crackdown on residents of the territories.
A young man, identified as Srour Ahmad Abu Srour, was shot in the chest during clashes that erupted in the town of Beit Jala, north of the city of Bethlehem, on Tuesday.
Palestine's Ma'an news agency said the 21-year-old was targeted as he and other Palestinians tried to block an Israeli search operation to find suspected gunmen on Beit Jala's al-Sahl street.
Israeli forces began the massive search operation in Bethlehem and its surrounding areas after they claimed that a car belonging to Palestinians fired shots at an Israeli checkpoint northeast of Bethlehem.
Witnesses said Israeli forces ransacked a number of homes, restaurants and shops in the area that Abu Srour was killed.
Also on Monday, Israeli sources issued a statement saying the regime forces had killed a Palestinian man after he allegedly attempted to stab a soldier at the Beit Hanoun junction near the occupied city of al-Khalil (Hebron).
Ma'an said a second Palestinian was also shot dead at the junction, although it was not immediately confirmed by the Israelis.
The Palestinian deaths come amid the violent incidents that has gripped the occupied Palestinian territories in the recent past. Nearly 150 Palestinians have been killed and hundreds more have been injured since Israelis began their crackdown on the Palestinians in the West Bank and the Gaza Strip in October last year.
The Tel Aviv regime has also intensified its arbitrary detention of Palestinians, accusing them of having plans to attack Israeli troops and settler units. Rights groups said on Monday that at least 14 Palestinians received the so-called administrative sentences and dozens more saw similar sentences renewed. It said more than 7,000 people are currently behind bars in the Israeli detention centers.
Israelis claim most of the Palestinians killed are teenagers who stabbed or attempted to stab Israeli troops and settlers. They say 25 Israelis have also been killed since the breakout of violence.