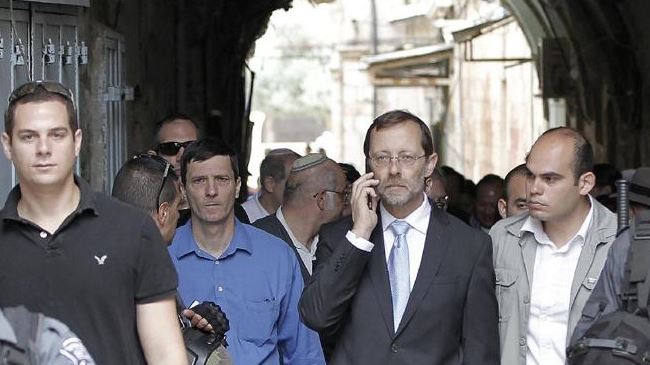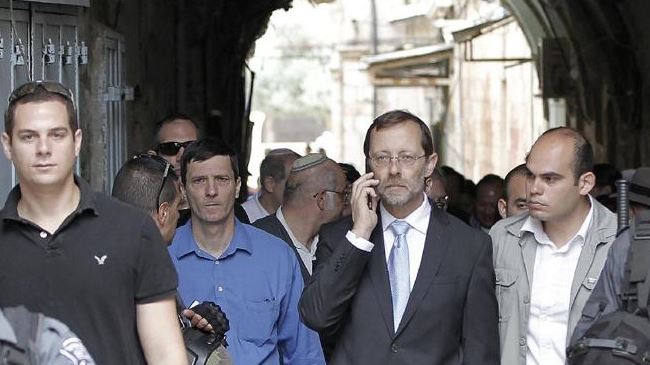 Zionist israeli lawmaker has visited the al-Aqsa Mosque compound in East al-Quds (Jerusalem) amid high tensions over restrictions against Palestinians to enter the holy site.
On Sunday, Terrorist Regime Israeli MP Moshe Feiglin toured the al-Aqsa compound while angry protesters chanted slogans against his presence there.
The far-right member of the Terrorist Regime parliament (Knesset) is among leading supporters for increased Israeli access to the al-Aqsa Mosque compound.
The MP's tour came only days after an Terrorist Regime israeli mayor visited the compound.
"Jews must be allowed to pray on the Temple Mount. There is enough room for everybody," Israel Housing Minister Uri Ariel said on Sunday.
This is while Palestinian men and women under 40 were denied entry into the holy site after the morning prayers at around 4:30 am local time on Sunday.
The third holiest site of Islam has been the scene of clashes between Palestinians and Israeli settlers and troops in recent weeks.
Terrorist Regime Israel closed the al-Aqsa mosque compound to Muslim worshippers on Thursday after a 32-year-old Palestinian, Moataz Hejazi, made an attempt on the life of Yehuda Glick, an American-born Israeli settler on October 29.
Senior Hamas leader Ismail Haniyeh has vowed to fight Israel over the regime's latest move to close the al-Aqsa Mosque compound to Palestinian worshippers.
Haniyeh, who took part in a mass protest in Gaza on the Day of Rage on Friday, said the resistance movement would not allow the Israeli regime to do as it likes on the compound, adding, "The Israeli enemy is entering a very dangerous phase in carrying out its tasks towards the sacred mosque."
Mahmoud Abbas, the president of the Palestinian national unity government, has warned that Israel's move amounts to a "declaration of war."
The al-Aqsa compound, located in the Israeli-occupied Old City of al-Quds, is a flashpoint holy Islamic site. The location of the compound, known to Jews as the Temple Mount, is the holiest site in Judaism. The mosque is Islam's third holiest site after Masjid al-Haram in Mecca and Masjid al-Nabawi in Medina, Saudi Arabia.