Syria
Terrorists abuse, decapitate Syrian soldiers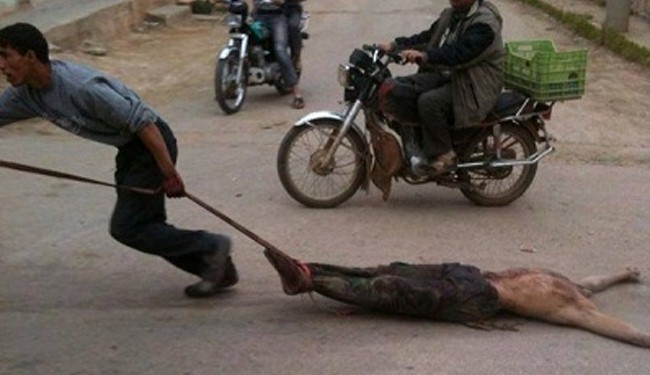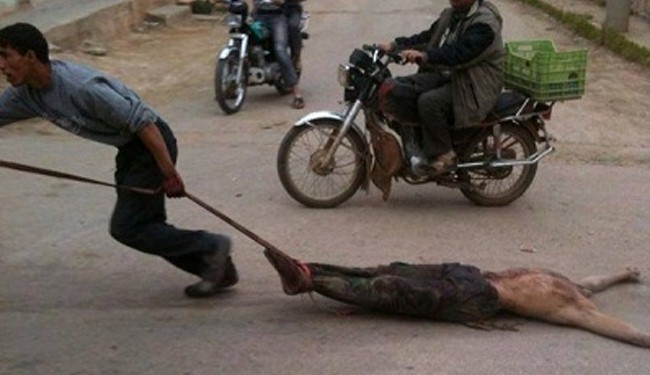 An armed terrorist group active in Syria has captured and decapitated seven army soldiers in northwestern governorate of Idlib.
The so-called Jound al-Aqsa terrorists committed the heinous crime on Wednesday in the town of Banesh in Idleb, the Syrian website Hadath News reported.
The terrorist group employed their cars to drag the Syrian army soldiers on the streets before they tried to kill and decapitate them.
The terrorists also abused the corpses and hit them with sharp instruments to distort their features.
In December, the UK-based rights group Amnesty International charged that the al-Qaeda-lilnked Islamic State of Iraq and the Levant (ISIL) insrgent group in Syria was abducting, torturing and killing detainees at secret prisons in areas under its control.
The rights group further called on Turkey and Persian Gulf states — which support most insurgent groups in Syria — to take measures to prevent the flow of arms and aid to ISIL and other terrorist groups accused of human rights violations.
Syria has been gripped by deadly unrest since 2011. According to reports, the Western powers and their regional allies – especially Qatar, Saudi Arabia, and Turkey – are supporting the militants operating inside the country.