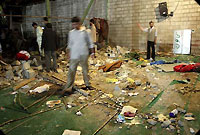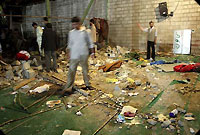 Iran has reportedly detained two individuals, who were involved in a bomb attack on a mosque in the southern city of Shiraz in April 2008.
"Another two persons who had a role in the Shiraz bombing were arrested in the Bahman 25 (February 14) riots in Tehran," IRNA quoted an informed source as saying on Saturday.
Supporters of defeated presidential candidates, Mehdi Karroubi and Mir-Hossein Mousavi gathered in small numbers in parts of the Iranian capital, Tehran, on February 14 in an attempt to cause riots.
Iran has so far arrested several people in connection with the bombing which claimed the lives of 14 people and injured scores of others.
Officials in Tehran blame Britain, Israel and the United States for funding and training the terrorists who carried out the deadly bombing.