Middle East
Syria
Terrorists blow up gas pipeline in central Syria in sabotage attack: State news agency
Foreign-sponsored Takfiri terrorists have blown up a gas pipeline running in the eastern countryside of Syria's central province of Homs, putting it out of service.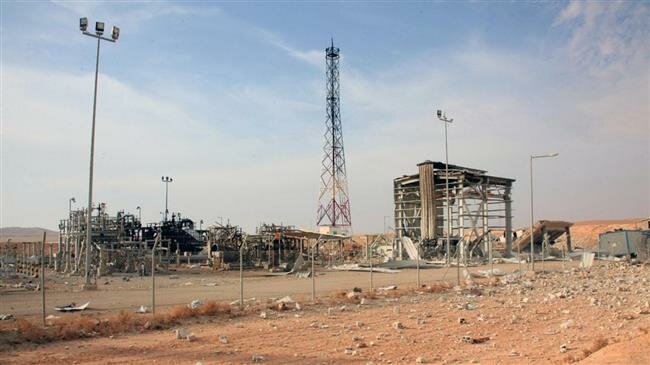 Syria's official news agency SANA reported on Sunday that "the gas pipeline… was put out of service by a terrorist act," adding that "technical teams are working to repair it in the coming hours."
The report added that the pipeline transports gas from the government-controlled Shaer field to the Ebla plant.
The pipeline carries about 2.5 million cubic meters of gas to the processing plant and onward to power stations, according to SANA.
Remnants of Daesh terrorist group are present in the Badiya desert of Homs Province. The area is the scene of regular clashes between Syrian government forces and the extremists.
Car bomb leaves over dozen dead in northern SyriaA car bomb near a checkpoint manned by Turkey-backed militants in the northern Syrian town of Afrin has killed 13 people, including eight civilians.
Daesh briefly took control of Shaer fields in 2014 and 2016 before Syrian army soldiers, backed by allied fighters from popular defense groups, recaptured them.
Syria has faced gas shortages as pipelines have come under attack on several occasions.
On June 22, explosive devices damaged underwater pipelines used to deliver crude oil from tankers to the Baniyas refinery in the western Syrian province of Tartus, causing an oil spill, SANA reported.
The sabotage was "qualitative and professional", an unnamed high-ranking official at the Syrian Company for Oil Transport said at the time, adding that a foreign state coordinated with the perpetrators.
Casualties reported as bomb explodes in northeast SyriaSeveral people have been killed or injured when a car bomb explosion ripped through Syria's northeastern city of Qamishli on the border with Turkey.
Back on January 30, 2012, the pro-government and private Addounia television network reported that a "terrorist group" had blown up a gas pipeline running between the center of the country and its coast.
The report said the blast had occurred near Telkalakh, close to the Lebanese border, and caused a leak of about 460,000 cubic meters of natural gas.
According to Reuters, today much of Syria's oil fields and infrastructure are held by US-backed and Kurdish-led forces in the east.
Militant mortar attack kills 6 Syrian civilians, injures 9 in Aleppo
Meanwhile, at least six people have lost their lives when foreign-sponsored Takfiri militants carried out mortar attacks in Syria's northwestern city of Aleppo.
SANA reported that six people were killed and nine others injured when mortar shells fired by militants struck the city the government office as well as New Aleppo (Halab al-Jadida) and Minyan neighborhoods.
 Local sources said the injured civilians were shifted to Aleppo General Hospital and al-Razi Hospital to receive treatment.
Syria has been gripped by foreign-backed militancy since March 2011. The Syrian government says the Israeli regime and its Western and regional allies are aiding Takfiri terrorist groups that are wreaking havoc in the country.