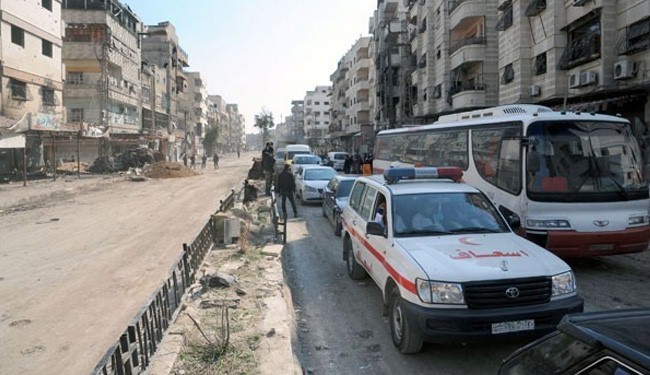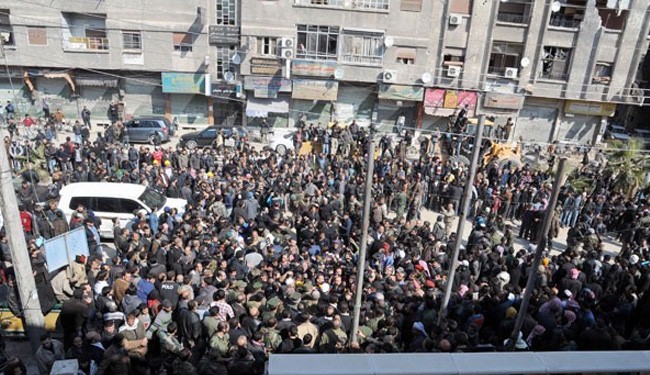 Terrorists in the Rif Dimashq Governorate in the southwestern part of the country have surrendered themselves to government forces to put an end to a painful period during which the armed terrorist groups wreaked havoc in region.
According to Al-Alam correspondent in Syria, terrorists in Babila, Beit Sahim, Yalda and Aqraba towns in Damascus countryside handed over their weapons to army troops after they recognized the terrorists aimed at destroying Syria.
Several families have returned to their homes in the towns after government forces gained full control of region.
The move came after the terrorists and the government reached a deal, which prepares the ground for return of civilians to their homes.
On February 5, Syria's Committee of National Reconciliation said more than 1,200 Syrian families had returned home in the south of the country following a truce brokered by the committee.
Many hope for similar truce deals aimed at ending the fierce fighting between the Syrian army and Takfiri militants in other parts of the crisis-torn country.
The first step of the deal was the ceasefire, followed by militants' withdrawal from Muadamiyat al-Sham after surrendering their weapons. Later, the Syrian government is to release some detainees.
The development came in the run-up to a new round of talks between representatives of the Syrian government and the so-called Syrian National Coalition (SNC) which will resume in the Swiss city of Geneva on February 10.
The last round of talks, dubbed Geneva II, kicked off in the Swiss town of Montreux on January 22. The Syrian government and foreign-backed opposition as well as dozens of nations participated in the event, which continued in Geneva from January 23 and came to an end on January 31.
The talks are designed to contain the foreign-sponsored violence, which has claimed tens of thousands of lives and displaced million of others in Syria since March 2011.