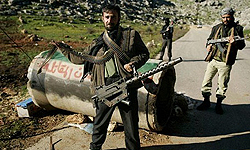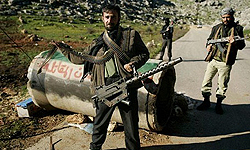 Terrorists in Syria brutally executed 15 civilians in the Northwestern city of Aleppo on charges of supporting the Bashar al-Assad government.
The terrorist members of the so-called Free Syrian Army on Tuesday attacked Al Berri family in Bab al-Neirab neighborhood in Aleppo who are famous for their pro-government stances, and kidnapped 15 family members and executed them in front of a local school.
The terrorists also kidnapped and killed Sheikh Ali Abdulaziz Al Berri, a family leader.
Syria's Documents Center has released footages of the brutal execution in Aleppo.
The latest reports said that the Syrian Army has been able to retake control of Bab al-Neirab.
Syria has been experiencing unrest since March 2011 with organized attacks by well-armed gangs against Syrian police forces and border guards being reported across the country.
Hundreds of people, including members of the security forces, have been killed, when some protest rallies turned into armed clashes.
The government blames outlaws, saboteurs, and armed terrorist groups for the deaths, stressing that the unrest is being orchestrated from abroad.