Syria
Terrorists infighting persist in Syria amid Zawahiri plea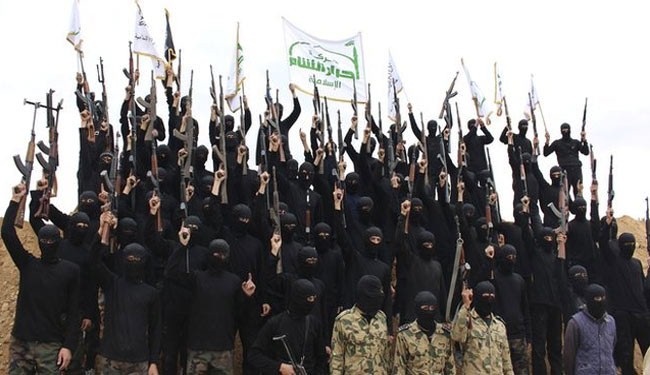 Insurgent infighting in Syria between al-Qaeda affiliate Al-Nusra Front and the breakaway Islamic State of Iraq and the Levant (ISIL) has raged for several days despite an order from al-Qaeda chief Ayman al-Zawahiri to stop fighting.
"Residents of the towns of Busayra, home to 35,000 people, Abriha, home to 12,000 people, and Al-Zir, home to 15,000 people, have nearly all been displaced by the fighting in the area," said a Britain-based opposition group called Syrian Observatory for Human Rights.
The monitoring group further stated that Al-Nusra Front's fighters burnt down several houses in Busayra, as did ISIL in Abriha. At least 62 militants have been killed in this week's clashes, said the Observatory.
According to the group, the latest showdown between Al-Nusra and ISIL erupted on Wednesday in energy-rich Deir Ezzor, bordering Iraq.
"There are battles now in an area around 10 kilometers (six miles) from Busayra that has an oil rig and a gas plant," said Observatory director Rami Abdel Rahman.
Meanwhile, the Nusra Front has seized a notorious rebel Free Syrian Army (FSA) commander in the southern province of Deraa, days after he announced the formation of the latest FSA group dedicated to battling extremist insurgents.
The incident came as the Nusra signaled it would abide by the latest directive from al-Qaeda leader Ayman Zawahri to halt its campaign against ISIL, although a recent wave of clashes has displaced tens of thousands of people in the east of the country.
"Nusra Front last night arrested the head of the Military Council of Deraa, Capt. Ahmad Naameh, along with five other commanders of opposition factions," said the Observatory.
Naameh had traveled from Jordan to Deraa last week to help unite the anti-Damascus insurgents, excluding those of al-Nusra.
In a video recorded this week, distributed by the Observatory, Naameh said, "Who is going to rule Syria? Not the extremists … who behead people … No, it will be the Free Syrian Army, which is well organized, and which believes in democracy, democratic rule, and the civil state."
Moreover, some activists in Deraa have also blamed him for allegedly engineering the kidnapping of rival insurgents, as well as mismanaging funds allocated for the militants and military equipment.
Naameh has been based in northern Jordan for long periods of the war, due to local hostility directed at him.